19BOX095
TONY KOSA / BIT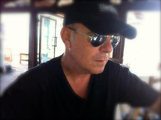 PRESS
Veteran Italian DJ Tony Kosa has crafted a New York house influenced track straight from the early 1990s. After making his debut as a remixer of Ambrozia & Ganga's 'On My Own', Tony has returned to 19BOX RECORDINGS for his original production, 'Bit'. The track features a riff that feels like it's floating in the air, all while it's underpinned by a fantastic chord stab. Remix comes courtesy of Genuine Fakes.
By now anyone who's a 19BOX head is familiar with the regular output of Genuine Fakes. His unique remix is named the Offshore Mix because he imagined being by the seaside when he produced it.
With summer just around the corner, we hope you'll pack your boombox and throw these on when you head to the beach!
RELEASE DATE : June 22th, 2015(beatport) , July 20th, 2015(other)