19BOX078
DJ MOTIVE / QUE QUE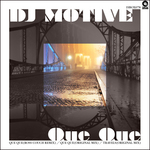 1.QUE QUE(ROSS COUCH REMIX)
2.QUE QUE(ORIGINAL MIX)
3.TRAVELS(ORIGINAL MIX)
DJ MOTIVE ROSS COUCH


PRESS
DJ Motive makes his 19BOX RECORDINGS debut with these absolutely fantastic jazzy hip hop tunes featuring a slamming remix courtesy of Scottish DJ and producer, Ross Couch. DJ Motive is one of the biggest Japanese producers in the country from the hip hop and chillout music community. He's been releasing albums since 2005. His 3rd album entitled "Cure" was ranked as the number two hip hop album on the iTunes Japan chart, so it was picked as the "Best Indie Hip Hop Album" in 2008 for Japan.
DJ Motive has delivered two tracks for his debut on 19BOX RECORDINGS that have already featured on the "Comfort Zone - Premium Night Lounge" compilation CD compiled by DJ 19. While his main job is running a café & bar called alFFo, he's been making music on the side that he hopes will appeal to the world. This is the first of many steps, but we can guarantee that his name is a force to be reckoned with in the immediate future!
While DJ Motive may be established in Japanese hip hop circles, he's still new to a lot of the electronic music world's audience. As a result of this we have commissioned a cool deep house remix from none other than Glasgow, Scotland-based DJ and producer Ross Couch. Ross and DJ 19 go back a long way. His first appearance on 12" vinyl was a remix of DJ 19's 'Phuturefunk' in 2001 when he was mainly in-volved with the techno scene. By 2003 Ross' sound had started to mature and he began developing his signature style; a unique blend of styles influenced by the melodic sound of deep house whilst retaining the dance-floor energy of his earlier techno productions. It has proven to be a wise choice and in the years since he produced a constant output of high quality house music for which he's well known. These days one can find Ross running the fantastic BODY RHYTHM label that largely acts as an output for his own productions.
RELEASE DATE : April 14th, 2014(beatport) , May 12th, 2014(other)