19BOX038
BLUE SATELLITE / PT. DEUX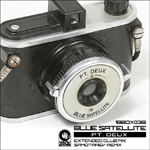 1.EXTENDED CLUB MIX
2.SAMOTAREV REMIX
BLUE SATELLITE SAMOTAREV



PRESS
19BOX RECORDINGS returns with a new EP from the notable young producer BLUE SATELLITE with the single – "Pt. Deux" as a follow up to debut single "Paris". There is no "Pt. Un" prior to this release, but it will be on the track listing of his forthcoming album.
Inspired by Japanese fusion sound, "Pt. Deux" is a ravishing release worthy of a prime position in your CD wallets. The Original Club Mix revolves around hard hitting synth chords and chopped-up guitar samples which sit on top of growling 8Bit elements.
SAMOTAREV(ALEXEY SAMOTAREV) is known as a member of the Rostov-on-Don-based Russian project PYTHON. He is also a label owner of GREEN SNAKE RECORDS. Recently he's been focusing on solo work, and has had positive feedback from JOHN DIGWEED, EELKE KLJEIN, NOEL SANGER, SPOOKY and amongst others.
RELEASE DATE : 2010.09.27(beatport) , 2010.10.25