19BOX098
OSCAR GS & ALBERT BALLART / GIVE ME CLOSER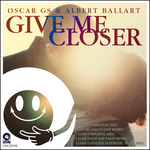 1.GIVE ME(ORIGINAL MIX)
2.GIVE ME(ALLAN ZAX REMIX)
3.CLOSE(ORIGINAL MIX)
4.CLOSE(GENUINE FAKES REMIX)
5.CLOSE(GENUINE HYPNOTIC STATE MIX)
OSCAR GS
ALBERT BALLART
ALLAN ZAX GENUINE FAKES




PRESS
After releasing the 'Ready For Summer EP' with Sergio Pardo on PARK LIMITED MUZIK, Oscar Gs comes back with two awesome original tracks for 19BOX RECORDINGS through his collaboration with Albert Ballart. Oscar Gs is from Sueca, Spain. He is also known under the moniker of Ordinary People and is the label manager of WE LOVE HOUSE RECORDINGS. Albert Ballart hails from Barcelona, Spain and has teamed up with Oscar Gs many times. This time their studio wizardry has delivered several tracks that aim more towards the commercial sphere of dance music, with powerful melodies and vocals.
Bulgarian based producer Allan Zax steps up to remix 'Give Me', stripping back some of the synths and letting the drums and vocals to the forefront. He has released tracks with many different aliases in a wide ranging number of different electronic music genres like progressive trance, drum n' bass, deep house, chillout and others.
On 'Close', our favourite 19BOX producer Genuine Fakes from Tokyo, Japan has provided us with two action packed remixes that are full of Yin and Yang. His 'Hypnotic State' remix takes on darker tones and goes into trip hop territory, whilst his 'Genuine Fakes' remix goes more into piano-laden breakbeat territory.
'Give Me Closer' has all of the makings of an underground hit in the making!
RELEASE DATE : August 24th, 2015(beatport) , September 21st, 2015(other)