19BOX094
PAUL2PAUL / EVERYTHING IS DOWN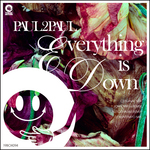 1.ORIGINAL MIX
2.JOHN MASH REMIX
3.AUTOCHARM REMIX
4.DOWNTEMPO MIX
PAUL2PAUL JOHN MASH AUTOCHARM


PRESS
Paul2Paul is making his big debut for us over here at 19BOX RECORDINGS. After appearing as a remixer of Hideout's 'Songbird', the Muscovite who now calls Philadelphia, USA home has delivered original track entitled 'Everything Is Down'. This is a proper deep house assault with Detroit techno elements.
Of course we can't forget about the remixes… 19BOX has enlisted the services of John Mash and AutoCharm. Italian producer John Mash takes the track deeper into progressive territory instead of his typical trance style. His music has been supported by the likes of Armin Van Buuren, Paul Van Dyk and so on. His production is characterised by particular elegance towards melody.
AutoCharm hail from the vibrant and hardened streets of Glasgow, Scotland in the UK. They are a three piece production team who write and produce their own music from their recording studio in Motherwell. Consisting of David Fotheringham, Phil O'Shea and Dougie McAuley, the team fuse together electronics with real instrumentation to make a blend of jazzy, disco soulful house based music and have also been known to produce some jazzy lounge too.
Lastly, Paul2Paul round out the package with a downtempo mix as well! That gives you four stellar mixes of 'Everything Is Down' that are sure to not let you down.
RELEASE DATE : April 13th, 2015(beatport) , May 11th, 2015(other)