19BOXAL020
VARIOUS ARTISTS / WMC 2015 SAMPLER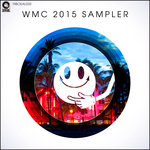 01.DJ MOTIVE / QUE QUE (ROSS COUCH REMIX)
02.HIDEOUT / SONGBIRD(PAUL2PAUL REMIX)
03.AMBROZIA & GANGA / ON MY OWN(TONY KOSA REMIX)
04.HOT STATION / LADY(HEAR ME TONIGHT)(TAMANDUA TWIST REMIX)
05.DJ MOTIVE / SMILE(PHAZE DEE REMIX)
06.BRYAN COX & DJ 19 / IMPOSSIBLE (TAMANDUA TWIST REMIX)
07.RED.TREE & TIMMY SCHUMACHER / F.IVE(PHAZE DEE REMIX)
08.D.P.KASH / DA BEAT GOES(ORIGINAL MIX)
09.FEO / COME BACK(PANSIL REMIX)
10.HOT STATION / MOAN(Mr. JONES DEEP HOUSE DUB MIX)
PRESS
19BOX RECORDINGS celebrated its 15th anniversary with a series of four compilations in 2014. As always, we're moving forward with releases and we're proud to announce the "WMC 2015 Sampler" compilation that takes focus on the label's deep house output. The compilation contains a wide variety of the freshest tracks from your favourite label, and is a collection of what is our take on quality music from the 19BOX RECORDINGS and PARK LIMITED MUZIK catalogues.
You can test the waters with these excellent tracks at the annual Winter Music Conference held in Miami, Florida, USA. Regardless if you attend WMC or not, you can feel warmth of these house tracks in the comfort of your home!
We know you can't control yourself any longer. Feel the rhythm of the music getting stronger. Don't you fight it 'til you've tried it and go deep!
毎年マイアミで開催されるクラブ・ミュージックの祭典=Winter Music Conference(通称WMC)をターゲットにしたディープ・ハウス系コンピレーション。19BOX RECORDINGSの作品を中心に、姉妹レーベルであるPARK LIMITED MUZIKのカタログからもピックアップ。レーベルの動向を確認する意味でもマスト。
RELEASE DATE : March 25th, 2015