19BOXAL018
GENUINE FAKES / FAKE ONE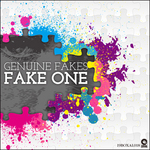 01.SOMMEILLER
02.SUNSET CAVE
03.HURRICANE
04.NOCTURNE FOR NIGHT OWLS
05.I LIKE YOUR FLAVOUR
06.LADYBUG
07.THE WAY LIKE LIKE IT
08.OUT OF THE BLUE
09.REQUIEM FOR REGAN
10.SWINGGY FOG
11.ELECTRIC WIND(ALBUM MIX)
12.MERMAID'S TEARS
13.RAY OF SUNSHINE
14.WHATEVER YOU WANT TO BE
15.MERRY CHRISTMAS MR. LAWRENCE

PRESS
The year was 2010 and 19BOX RECORDINGS dropped "Okinawa Lounge Sessions" as a follow up to "Bali Lounge Sessions". Both releases were forays from 19BOX RECORDINGS into the chillout genre and focused on famous resort areas of the world. The former featured the work of Genuine Fakes. Fast forward to today and Genuine Fakes, AKA Sota S., has undoubtedly become one of the finest lounge and chillout producers to emerge from Japan in recent years. After years of honing his art, we are proud to release his second album entitled "Fake One".
"Fake One" includes all of the singles Genuine Fakes has released after "Okinawa Lounge Sessions". Some may ask why he would choose the title of "Fake One" when you consider that the previous album was working within the Lounge Sessions concept. The answer is quite simple: the first album was a concept album, so whilst this isn't his first album release, it signifies a new start for his work. There's several brand new tunes, such as cover version of Ferry Corsten's trance classic 'Out Of The Blue'. Also included is the 1980's-influenced jazzfunk tracks 'Ladybug' and 'This Way Like I Like It'.
Who's afraid of getting caught out with fake products and copycats? Everyone loves imitation if it can be purchased at a cheap price point and retains the quality of the original, but Genuine Fakes is the real deal. Copycats need not apply.
2010年のデビュー作『Okinawa Lounge Sessions』にて彗星の如くチルアウト/ラウンジ・シーンに登場し、すぐさまクラブ系の配信サイトでNo.1を獲得。多くのカフェ/ラウンジ系CDに楽曲がピックアップされる存在になったSota S.のプロジェクト=Genuine Fakesが満を持して2ndアルバムをリリース。シングルを全て網羅しつつ、Ferry Corstenのトランス・クラシック「Out Of The Blue」のカヴァーであたっり、80sのジャズ/フュージョン的な雰囲気をブレンドした「Ladybug」に「This Way Like I Like It」など、ワイド・レンジな作品集となっている。前作がある意味でコンセプト・アルバムだったこともあり、今回は新たなスタートの意味を込めタイトルを『Fake One』とし、"Fake"ではなく"Real"が存在することを証明してみせた。
RELEASE DATE : October 15th, 2014