19BOX086
RED.TREE & TIMMY SCHUMACHER / F.IVE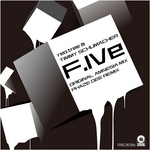 1.ORIGINAL AMNESIA MIX
2.PHAZE DEE REMIX
red.tree
TIMMY SCHUMACHER PHAZE DEE



PRESS
Our longtime partner makes his first appearance on 19BOX RECORDINGS. red.tree is the new artist project of William Patrick. William is well known in the Miami scene as the driving force behind parties he has promoted for Rabbit In The Moon, Sasha & Digweed, Josh Wink, Danny Howells, Moby, Union Jack, Terra Ferma, Prodigy, Paul Oakenfold, Anthony Pappa, Dave Seaman, Bjork, Marilyn Manson etc. He describes red.tree's unique sound as 'future ancient alien disco'. Regardless, it's a look back at the past with a hint of the future and it's a sound we're very much in tune with here at 19BOX towers.
Timmy Schumacher is a producer from New Zealand who has originally made a name for himself on the breaks scene. His absolutely massive tune 'What's Down Low' was quickly snapped up by the UK's Aquasky for a release on their PASSENGER RECORDS. Since then, he has been releasing tunes on DJ Icey's seminal ZONE RECORDS, Cut La Roc's ROCSTAR RECORDINGS, BASS=WIN and many others.
On remix duties, we have brought on the talents of Phaze Dee. Some may recall him as a remixer of DJ Motive's 'Smile' right here on 19Box. A DJ and producer that hails from Greece, he has been producing remixes and original tracks for such imprints as LIQUID DEEP, LARGE MUSIC, MILK & SUGAR, RHEMI MUSIC and many others. He has taken the original and scaled it back to its raw elements, going deep and sexy.
RELEASE DATE : October 6th, 2014(beatport) , November 3rd, 2014(other)