19BOX058
JULIO LARGENTE / COSMIC KITES EP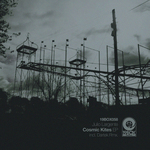 1.ANGEL HOLDS
2.ANGEL HOLDS(DARTEK REMIX)
3.QUANTUM KIDS
4.LOST WITHOUT YOU
5.INNERSENSE
JULIO LARGENTE DARTEK


PRESS
Hailing from Argentina, Julio Largente lays down four excellent ambient/chillout tracks for us on this E.P. Fans of the label will already know him from already appearing on 19BOX RECORDINGS as a remixer and on PARK LIMITED MUZIK as a collaborator with DJ 19 using The Loony Tunes guise.
First up is 'Angel Holds'; which is a beautiful work of ambience that draws comparisons to the sounds Mike Oldfield during his 'Tubular Bells' and "The Exorcist" period. On remix duties of 'Angel Holds' is Dartek - a solo project of Mauricio Daniel Maranghello. He was born in 1978 in Neuquén in the heart of the Argentinean Patagonia region. His style has a complex and hypnotic blend of sounds that keep the groove as a focal-point. His work has gained attention and praise from the likes of John Digweed, Chris Fortier, Hernan Cattaneo, Anthony Pappa, Hyper and many others. His remix is different to his usual fare, but no less effective.
Meanwhile, Julio has delivered several other tracks to round out this E.P. They all lie within the realms of the deep and dark, whilst focusing on emotional melodies. Previous tracks like 'Darkened Underpass' have been included on Nick Warren's "Balance 018" DJ compilation album. While different to his usual style, the sounds are still definitely cutting edge electronica that gives you an idea of his wide ranging berth of musical capabilities and form.
RELEASE DATE : 2012.08.06(beatport) , 2012.09.03(other)