PLM016
HOT STATION / 2 THE RHYTHM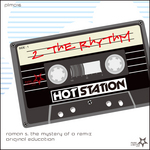 1.ROMAN S. THE MYSTERY OF O REMIX
2.ORIGINAL EDUCATION
HOT STATION ROMAN S.



PRESS
Hot Station (a collaboration in between 19BOX label boss DJ 19 and Hide from Hot*Dog / Hideout) go on to release their second single from their debut album, "Muzik 4 The Boyz". The first single was 'Every Little Dub Step' released on 19BOX RECORDINGS. Sister label PARK LIMITED MUZIK is releasing the second single. '2 The Rhythm' is the final track of the album that has a Jazzy funk element. As with all things released on PARK LIMITED MUZIK, any single comes aligned with a dancefloor-oriented remix in the techy vein.
The remix has been done by New York based DJ/Producer Roman S. He is the former head of A&R for the legendary house labels KING STREET SOUNDS and NITE GROOVES. He is also the owner and mastermind behind ELEKTROSILA RECORDINGS. He has had years of collaborative experience and production with house music veterans such as Danny Tenaglia, Deep Dish, Angel Moraes, Cevin Fisher, Chus & Ceballos, DJ Vibe etc. On top of that, he has had over a hundred of original releases and remixes on various well known labels (YOSHITOSHI, WEST END, STEREO PRODUCTIONS, STAR 69, KAOS RECORDS, TWISTED AMERICA, NRK, RENAISSANCE and of course 19BOX RECORDINGS).
Hot Station have mixed the single again and beefed it up for the dance floor, instead of just providing your average album mix.

RELEASE DATE : 2012.05.23(beatport) , 2012.06.20(other)