19BOX050
DJ 19 / ANGEL OF MERCY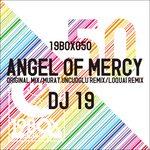 1.ORIGINAL MIX
2.MURAT UNCUOGLU REMIX
3.LOQUAI REMIX
DJ 19 MURAT UNUOGLU LOQUAI




PRESS
Have made it to the number 50.
Since 1999, we've been largely releasing quality house music in all forms. Whether it's progressive, breaks, deep, tech, trance, hard house and all that's inbetween, we've had releases from an artist from some corner of this Earth release it on our label. In those 50 releases, we have discovered, delivered and helped make the occasional producer a future star.
We're celebrating our 50th release by 19BOX's one and only label-boss, DJ 19 in the form of his cool 'Angel Of Mercy' track. The original is in the style of Lil' Louis' classic 'French Kiss' track and sees a sexy and sultry female vocal pitched up and down for added effect.
Turkish DJ and producer Murat Uncuoglu(aka Murat U, Muncu, Spectraminds) de-livered deep style remix. He is one of the original pioneers of the modern Turkish club scene and has re-leased many excellent tracks on prestigious labels like VAPOUR, GET PHYSICAL, METHOD, POD RECORDINGS and many others.
LoQuai, who is known to his mum as Konstantin Alt, hails from Germany. He has done many remixes and original tracks for the likes of labels such as MISTIQUE MUSIC, BAROQUE DIGITAL, INDIGO RECORDS, JETLAG DIGITAL, FUTURE LOVERS, UNDERGROUND CITY MUSIC and so on. He forms the third prong of this trident that helps us reach half a century in releases.
It took us over 13 years to release 50 releases and we hope to reach our 100th release and be around for that span of time for many more years to come. Happy 50th, 19OX RECORDINGS!
RELEASE DATE : 2012.01.16(beatport) , 2012.02.13(other)