19BOXAL008 / 19BOXCD003
HOT STATION / MUZIK 4 THE BOYZ
1.CAN U FEEL THE FUNK?
2.EVERYBODY
3.THE CAPTAIN OF HER HEART
4.RANDOM FACTOR(NAKED BOYZ DANCE ORIGINAL MIX)
5.U GOT
6.SHOUT 2 THE MOON
7.EVERY LITTLE DUB STEP
8.RANDOM FACTOR(NAKED BOYZ DANCE VERSION EXCURSION MIX)

9.SAKURA-NO-HANABIRA(DUB ME TENDER MIX)

9.ONEGAI ZUTTO

10.RANDOM FACTOR(NAKED BOYZ DANCE VERSION EXCURSION MIX)

11.2 THE RHYTHM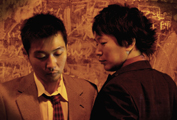 PRESS
HOT STATION is yet another collaboration in between Japanese DJ 19 and HIDE from Hot*Dog and HIDEOUT. DJ 19 has recorded under the monikers AMBROZIA, VALID EVIDENCE and TRANCENTRAL STATION. The HOT STATION name comes from the combining of DJ 19's TRANCENTRAL STATION alias with that of Hide's Hot*Dog moniker. HOT STATION's influences are heavily based on funk music with soul, jazz, hip hop and house elements all coming into play.
They have released several singles focusing on vocals, which in turn gained attention from the pop music market almost immediately. Their single "Sakura-No-Hanabira" gained the Number 1 chart position on Amazon's download site.
That was then, and this is now. "Muzik 4 The Boyz" is based on party grooves instead of pop melodies. It's for DJs, club punters and the home listener looking to have a smile put upon their face. Taking this idea up to the next level, HOT STATION has created what they call "Electro Hip Funk". Several track have already seen licenses to theatre productions and so forth.
"The Captain of Her Heart" was a single originally released by Swiss duo 'DOUBLE' in 1986. The song was an international success, reaching #8 in the UK Singles Chart and #16 on the Billboard Hot 100. HOT STATION have covered this classic, featuring vocalist KEN SPECTOR aka LENS. He is well known for as a vocalist for his cover version of DEPECHE MODE "Enjoy The Silence". Even MARTIN GORE, who is DEPECHE MODE's chief song-writer, has given his approval to KEN's voice.
TAIWAN EDITION from INVADERS MUSIC
過去に『給与明細』や『世界ウルルン滞在記』などのエンディング・テーマで取り上げられ、特に「My Way~沖縄バージョン~」が大ヒットを記録した元Hot*DogのHIDEと、日本のクラブ・シーンの鬼才、DJ 19が組んだユニットがHOT STATIONである。
2010年3月、メローなヒップホップ/R&B・チューン「さくらの花びら」でデビューし、アシッド・ジャズな「break」、ハウスな「いつだって RIGHT THING」、そしてデビュー曲のリミックス盤である「さくらの花びら(REMIXES)」にてamazon1位に輝き、その後も「お願い、ずっと」やJiLLTRiBEのリーダーであるラッパーのFlying96が参加した「真っ黒く塗りつぶせ」と怒濤のリリースを配信のみで行ってきたHOT STATIONが、遂にアルバムをリリース。
HOT STATIONは、それ以外にもBJORN FOGELBERG、GENUINE FAKESなどのリミックス、またJAY TRIPWIRE、PAKO & FREDEIK, PRESSLAB MUSIC 、Mr.JONESなど海外の錚々たるメンツを従えたリミックス・シングルをリリースするなど、デビューして約1年半とは思えない活動を行ってきた。
サウンドを端的に表現するならば、80'sの要素を随所に散りばめながら、ヒップホップ的でありながらもファンキーで攻撃的。またクラブ的なエッジ感も合わせ持ち、ブロークンビーツに様々なジャンルが融合してくるこれまでの日本の音楽シーンにはなかったものだ。
その評判はすぐに波及し、巷で話題のイケメン俳優集団『NAKED BOYZ』の舞台のダンス・シーンに使用されるなど枚挙に暇がない。今回アルバムでは、過去にリリースしたシングル・コレクションではなく、エレクトロでジャジーでファンキーでメローで・・・というエクレクティックなスタイルを提示したパッケージになっている。中でも、80年代を代表するクールネスなエレポップ、スイスのドゥーブルのカヴァーである「THE CAPTAIN OF HER HEART」は眉唾もの。しかもヴォーカルは、デペッシュ・モードのマーティン・ゴアからも認められたケン・スペクター。「CAN U FEEL THE FUNK?」と「U GOT」は既にダンサーの間でも話題のアイテムである。
最後に、名前の由来は、HIDEのHot*Dogと、DJ 19が過去に活動していたプロジェクトであるTRANCENTRAL STATIONを合体させたもの。
Latest tracks by Hot Station