19BOX046
VALID EVIDENCE / JOURNEY SEASON 3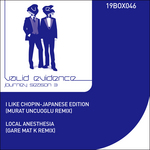 1.I LIKE CHOPIN-JAPANESE EDITION(MURAT UNCUOGLU REMIX)
2.LOCAL ANESTHESIA(GARE MAT K REMIX)
VALID EVIDENCE MURAT UNCUOGLU GARE MAT K



PRESS
We're delighted to announce the 3rd installment of a remix collection from VALID EVIDENCE – the Ja-panese Balearic outfit formed by DJ 19 & YU-TA. Their sound has been described as a radio-friendly Japanese version of CHICANE. Hot on the heels of their "A Dream Within A Dream" release, they have prepared their latest in the "Journey" series for imminent release. The original will be appearing on
VALID EVIDENCE
's forthcoming 2nd album.
The original version of "I Like Chopin" was done by the Italian artist known as GAZEBO. However, in Japan a cover version by ASAMI KOBAYASHI was more popular than original. As a result, VALID EVIDENCE have covered the cover version. Confused? We are too!
Turkish DJ and producer MURAT UNCUOGLU(aka MURAT U, MUNCU, SPECTRALMINDS) has stepped up to the remix in fine form. He is one of the original pioneers of the modern Turkish club scene and has released many excellent tracks on prestigious labels like VAPOUR, METHOD, POD RE-CORDINGS and many others. His remix delivers chopped and sliced-up vocals with less of the original elements present.
"Local Anesthesia" has been remixed by Colombian GARE MAT K, who previously appeared on DJ 19's "As We Are" on 19BOX RECORDINGS. He's had released on labels such as BAROQUE LIMITED, HYPNOTIZD MUSIC, BXR/MEDIA RECORDS and of course his own PROGREZO RECORDS.
GARE MAT K
's remix cranks up the tribal and techy elements and goes for broke. Using parts from the original track, the bassline throbs on this one!
RELEASE DATE : 2011.09.28(beatport) , 2011.10.26(other)