PLM014
HOT STATION / RANDOM FACTOR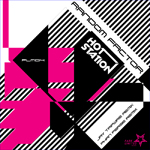 1.JAY TRIPWIRE REMIX
2.PHAN PERSIE REMIX
HOT STATION JAY TRIPWIRE
PHAN PERSIE



PRESS
PARK LIMITED MUZIK Keeps burning up its 2011 release schedule with HOT STATION - which is a collaboration in between DJ 19 (aka AMBROZIA, VALID EVIDENCE, TRANCENTRAL STATION) and HIDE (aka Hot*Dog, HIDEOUT). They have been mainly releasing tracks for the Japanese domestic market though 19BOX SPECIAL label. Their last single together entitled "Moan", included a Mr. JONES remix instead of the original mix. This "Random Factor" release is the same as the last one – but with fresh mixes. Canada's prophet of trippy, west-coast tech-house JAY TRIPWIRE and Japanese new comer PHAN PERSIE have delivered two fantastic remixes.
JAY TRIPWIRE is in no need of an introduction. His years on the house music scene have spoken for themselves. MUZIK magazine said "His signature fusion of Detroit textures and intricate rhythms with a classic house touch has pushed him ahead of everyone else" . His productions have been featured on numerous commercially released mix CD's - notably from Cocoon, Fabric, Renaissance, Journeys by DJ, Ultra & Bedrock from a plethora of leading DJs. Those DJs span a diverse spectrum of dance music culture - from house luminaries such as DOC MARTIN and MARK FARINA, techno legends such as MR C and LAURENT GARNIER and to progressive innovators as JOHN DIGWEED and DANNY HOWELLS. These names illustrate Jay's long term mass appeal amongst dj's and fans alike.
PHAN PERSIE is the duo of DJ KAI and TAWARA - who are living and building the club scene in Niigata. They are both DJs keen on showing their production skills. Kai has 15 years of hard work behind the decks as a DJ. Tawara has added his background as a VJ & graphic web designer to form arguably the complete audio-visual package. They are new to the international market but have a provided a fresh take on HOT STATION's original mix. Their sound is focused on tribal elements, so they have gone ahead and added that flare to the original mix. The name is a play on words from Dutch football player ROBIN VAN PERSIE.
RELEASE DATE : 2011.02.21(beatport) , 2011.03.21(other)