19BOX031
VALID EVIDENCE / JOURNEY SEASON 1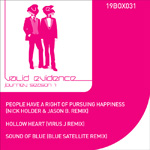 1.PEOPLE HAVE A RIGHT OF PURSUING OF HAPPINESS(NICK HOLDER & JASON B. REMIX)
2.HOLLOW HEART(VIRUS J REMIX)
3.SOUND OF BLUE(BLUE SATELLITE REMIX)
VALID EVIDENCE                 NICK HOLDER                      VIRUS J                             BLUE SATELLITE                      



PRESS
This is the first installment of a remix collection, which was originally taken from their debut album "This Is A Journey Into Sound".
VALID EVIDENCE(DJ 19 & YU-TA) is pure sea-soaked, sun-stricken, cocktail-laden Balearic grooves.  Their tracks have no doubt proven to be the perfect soundtrack to thousands of Ibizian sunrises and chill out sessions. This duo is already known for their remix of the seminal SHAKATAK's "Night Birds".  De-spite their Balearic influences, this release delivers with remixes that is set to stir up any sophisticated dancefloor.
There's very little that needs to be explained about NICK HOLDER.  He's a house legend in Canada and was one of that country's earliest exporters of house music.  From deep, to disco, to just straight up funky or jazzy, Mr. Holder has released some of the finest house music there is over the course of the past two decades.  
VIRUS J a.k.a. JUSTIN C has stepped up to the plate to deliver a fantastic remix.   He is definitely one of the most active Lithuanian DJ/producers out there. His interpretation sees him attaching his trademark trancey/electro elements with the original track's Japanese vocals. 
Finally, the last remixer is one very hot talent. This is first appearance of BLUE SATELLITES aka PHILIP SCHWAN. He's the American answer to France's JUSTICE and brings an ED BANGER vibe to his re-work.  
If you like these remixes, don't forget to check out original tracks!  Their worthy in their own right!