19BOX029
DJ 19 / BREAKIN' OF THE DAWN 2009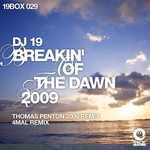 1.THOMAS PENTON 2009 REMIX
2.4MAL REMIX
DJ 19                            THOMAS PENTON                  4MAL



PRESS
Back in 2003, DJ 19 released "Breakin' Of The Dawn" on his very own 19BOX RECORDINGS label. 2009 sees us revisit that very same tune with several new twists. As a result of this, 19BOX RECORDINGS will be bringing some of DJ 19's classic tracks back to the future. Lending their considerable talents to the back catalogue remix project are Russian melodic prog genius' 4MAL, alongside long-time friend and DJ 19 collaborator - THOMAS PENTON.
"Breakin' Of The Dawn" was arguably the most important single for 19BOX RECORDINGS alongside TRANCENTRAL STATION's "Mothership". "Breakin' Of The Dawn" appeared in countless magazine reviews and THOMAS PENTON's original 2003 remix helped spread his name throughout the worldwide club circuit.
THOMAS PENTON was one of the first pioneers to introduce house and dance music to his native South Florida.  This veteran has been DJ'ing, producing and releasing techno projects since 1992. Since then, PENTON has produced various releases that have helped fuel the best talents in the world. Today, he has released over 100 various projects on some of the industry's most-respected dance labels. His style has crossed all boundaries; from producing a wide range of progressive house, tribal house and now electro house releases. PENTON also heads his own label ELECTRIC CANDY RECORDINGS. In operation since 2006, the label allows him to focus on a mixture of electro, house and progressive styled projects. His 2009 remix takes on those elements and he delivers with a bangin' electro house earth-shaker infused with trance undertones.
4MAL are Russian duo ANTON GUZEV and EVGENY SVALOV.  They are one of most refreshing musical alliances on the Russian dance scene in recent years. They were the first Russian musicians to make their debut on legendary progressive house label BAROQUE. To date, they've created and released over 40 their own tracks and remixes. Many of those tracks have landed on leading labels such as GLOBAL UNDERGROUND, BAROQUE / BAROQUE LIMITED, ARMIND / ARMADA / COLDHARBOUR and BEAT FREAK / DISTINTO. 4MAL have had their work supported by international DJs such as PAUL VAN DYK, SASHA, PAUL OAKENFOLD, TIESTO, HERNAN CATTANEO, ARMIN VAN BUUREN, ANDY MOOR, ANTHONY PAPPA, DAVE SEAMAN, STEVE LAWLER, MATT DAREY, SOLAR STONE, MARKUS SCHULZ, ABOVE & BEYOND and DEEP DISH. Their music is beautiful, melodic, catchy and fascinating. Of course, this remix doesn't disappoint and uses all of what they're known for to create a lush take on the original "Breakin' Of The Dawn".