19BOX027
DJ 19 VS THOMAS PENTON / 3 A.M. DELIGHTFUL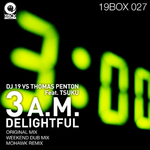 1.ORIGINAL MIX
2.WEEKEND DUB MIX
3.MOHAWK REMIX
DJ 19 VS THOMAS PENTON

PRESS
DJ 19 & THOMAS PENTON are at it again with a brand spanking new track entitled "3 A.M. Delightful" on 19BOX. The duo have already partnered together to make the track "Ima" and produced JAFROSAX's anthemic house tune  "SAXTATIC". With "3 A.M. Delightful" the duo take on the Japanese vocal and give it the same preferential treatment that "IMA" had in the past. Their original version is destined to become another captivating, driving and energetic progressive affair for those who like it techy and sultry.
The flip side sees MOHAWK on remix duties. His take on "3 A.M. Delightful" is a more peak time house affair that explores electro and trance vibes.  MOHAWK is the guise for MO VOLANS.  Since he started this project he has signed projects to  BAROQUE, FRAGILE, SUBVERSIVE and SYSTEM.
MOHAWK remixes have already appeared on CURVVE, SOMATIC SENSE, POSITIVA (THE SHAPESHIFTERS) and TWISTED FREQUENCY. MO VOLANS' portfolio spans over a decade and there aren't many labels of note that he hasn't worked with. Some of his previous aliases include: OPENAIR, MOHAWK, MO AND SKINNY and TWISTED AIR. 
This is 3 A.M. Delightful.  This is what you dance to at night.  Out on October 31st through 19BOX. 
APPEARS ON
STADIUM JAKARTA ESSENTIAL
PARTY 4 THE WEEKEND
SUPE001, SUPE002 & SUPE003(DVD)
mashup! MUSIO maniaxxx(DVD)