PLM005
DJ 19 & KRIECE / XROSS POINT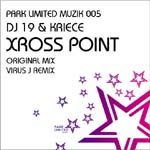 1 : ORIGINAL MIX
2: VIRUS J REMIX
DJ 19 & KRIECE                                     VIRUS J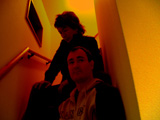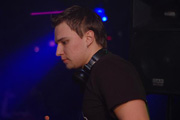 PRESS
PARK LIMITED MUZIK(sister label of 19BOX RECORDINGS owned by DJ 19) is proud to unveil its first release for 2008. Creative Aussie producer KRIECE returns with DJ 19 to release another groovy tech tune "Xross Point" plus hot remix with bigger electro bass by VIRUS J. 
Over the last 10 years the name KRIECE has become synonymous with dance music in Australia. KRIECE initially made his name as a DJ, supporting names such as SASHA, DIGWEED, CATTANEO and JAMES ZABIELA on Australian tours such as Ministry of Sound, Renaissance and Cream.
As a producer, KRIECE has gained worldwide recognition for his production work.  After a solid debut on EQ Grey Records, KRIECE came to the attention of many with his remix of APHEX TWIN's "Windowlicker" which was licensed to Renaissance for JAMES ZABIELA' s "Utilities" CD. In 2005, he teamed up with JAMES ZABIELA & JEFF BENNETT to record "We Make Contact" as THE FLYING DOCTORS.  Beside, 2007 has been spent touring the UK and working on material for his album on 20:20 Vision. And he's also known as a pro-Japanese, cos he used to live in Japan before. So this is a necessary collaboration with Japanese house king DJ 19.
VIRUS J a.k.a. Justin C is definitely the most involved Lithuanian DJ / producers from the little few there is. His tracks have spread widely across the global dance floors. His first debut was back in 2000 when Lithuania's national radio station started broadcasting his track "Isgirsk" which featured a voice of national singer Aiga. Later on Virus J released numerous tracks on a world renowned label such as Distraekt,  Big Love, "Benchmarc, Adjust Recordings etc. Remixes for DEEP FOREST, RUI DA SILVA, JIVA (SULTAN), DJ PIERRE, MASHTRONIC, NARANY and MTV award winning JURGA  SEDUIKYTE have made a big impact in his fast rising career.
 
Despite all this Virus J feels like it's only been a start so far and that the best is still to come. His tracks were supported and appeared in various sets by SASHA, JOHN DIGWEED, MARCUS SHULZ, HERNAN CATTANEO, FLASH BROTHERS, PILIAVIN & ZIMBARDO, DJ 19, ANTHONY PAPPA, MARCELLO CASTELLI, CHUS & CEBALLOS, HYBRID, DEEPSKY and the list goes on.