August 2006ARCHIVE
JAFROSAX / SAXTATIC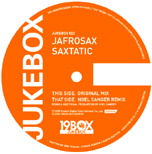 A : ORIGINAL MIX
B : NOEL SANGER REMIX






PRESS
Every year there has to be an Ibiza anthem, which everyone thinks will be remembered. This summer starts with JAFROSAX's "SAXTATIC" on 19BOX RECORDINGS.
JAFROSAX is a project of KAZUKI KATSUTA from famous Japanese jazz/fusion band DIMENSION. It couples his saxophone with great vocalists and the sounds of house, drum'n'bass, chillout and broken beats. YUKIHIRO FUKUTOMI, JAZZTRONIK, MAKOTO, DJ MITSU THE BEATS, VIKTER DUPLAIX are amongst the wealth of talent assembled on this project before. Especially, "DRAWN 2 U" has found fans worldwide especially from DIMITRI FROM PARIS who features it on his DEFECTED compilation "IN THE HOUSE OF LOVE". And then, "SAXTATIC" is produced by DJ 19 & THOMAS PENTON.
DJ 19 and THOMAS PENTON join forces again after the success of "IMA"(19BOX019). Excelling themselves once again, the talented production duo provide a monumental example of hypnotic electro/tribal house, graced with the dynamic saxophone.
On the Flip side, NOEL SANGER hits a career high note, fresh off of a month-long studio project with BT and TIESTO, and with upcoming releases on ARMADA, COLDHARBOUR, LOST LANGUAGE, BAROQUE Ltd, and more. On "SAXTATIC", he delivers a peak-progressive-percussive workout, with his signature combo of melodic house-electro and trancey-techy vibes.

APPEARS ON
RESIDENT*003 Phuture Funk