March 2006ARCHIVE
SAN & SEBASTIAN MOORE / HIGH STAKES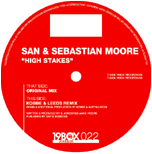 A : ORIGINAL MIX
B : KOBBE & LEEDS REMIX






PRESS
19BOX RECORDINGS is proud to announce the arrival of hot new tune. "HIGH STAKES" is a supremely accomplished house composition with a chord! The remix is a real treat too, as KOBBE & LEEDS add tribal factor to the original.
SAN has released many records, cd's, mixed compilations etc., but still his most known record remains: SOLID SSESSIONS "Janeiro". While his other projects: SAN PROJECT as well as SAN have also received continues support by DJ's varying from PAUL VAN DYKk to SASHA. His original productions have been featured on mix CDs by DJs such as SASHA, JOHN DIGWEED, ARMIN VAN BUUREN, PAUL VAN DYK, DAVE SEAMAN, DEEP DISH, DJ 19, FERRY CORSTEN and JIMMY VAN M. The SAN & SEBASTIAN MOORE combination has already proven to be successful with lots of DJ support and signings to 3 Beat (UK), Fektive (NL), Sprout (GER) and Tribal Vision (CZ). So stay tuned for more groundbreaking stuff from these guys. SEBASTIAN MOORE released a solo single called "Hunted" that was quickly picked up by many DJ's and his remix of DJ RUBY showed that he definitely is someone to keep a close eye on.
KOBBE and AUSTIN LEEDS have played in clubs and on events all over the world, and both have done releases on a variety of international record labels. KOBBE hails from Brussels, Belgium and AUSTIN LEEDS from Miami, USA. In 2002, they teamed up and released tech-house records like "Connection", "Fusing Love", and "Daze". "Connection" on INFRARED (BE), played by DERRICK MAY and FERGIE on BBC Radio One, and "Daze" on CLUB ELITE (NL) with a M.I.K.E. remix. Next, KOBBE and AUSTIN LEEDS started their tribal-house project THE LAND OF VOODOO and released "Sweat" featuring OBA Frank Lords on SONDOS (USA), "Mindkiller" on TUMBATA(FR) and "15 Minutes" featuring Alan T on PRESSLAB (IT). New Releases for 2006 are "Bodyshaker" on TUMBATA and "Headbound Champion Sound" on TWEEK'D (USA). They also have done a remix for the much hyped STARKILLERS "Discoteka" for SPINNIN' (NL), which is slated for a release in January 2006 . Their LAND OF VOODOO project has been supported, and played in clubs around the world by the biggest names in House Music. DANNY TENAGLIA, ERICK MORILLO, DJ VIBE, and SUPERCHAMBO are just a short list of world class DJs and producers who are fans of their sound. 2006 will be a great year for this dynamic duo.
As Featured on DJ 19 & THOMAS PENTON'S "19BOX INTO THE BATTLE ROUND 1" CD

REACTION
DJ SUPPORT:
ANDY MOOR, DEEPGROOVE, MOSHIC, PILIAVIN & ZIMBARDO, HARDY HELLER, DEAN FACER, STEVE GERRARD, NICHOLAS BENNISON and more.
PRESS:
RESIDENT ADVISER / UPDATE MAGAZINE by BRIAN CODY
RADIO:
TANGO / GONG FM by GABOR TOTH
DASDING FM by STEPHAN HINZ
TOP RADIO by HANS TEMMERMAN,TIM DAVIS and DJ 19
PROTON RADIO by DJ 19
APPEARS ON
19BOX INTO THE BATTLE ROUND 1
RESIDENT*003 Phuture Funk
STADIUM JAKARTA ESSENTIAL
PARTY 4 THE WEEKEND