February 2006ARCHIVE
VARIOUS ARTISTS /
19BOX INTO THE BATTLE ROUND 1 SAMPLER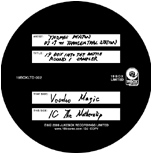 A : THOMAS PENTON / VOODOO MAGIK
B : DJ 19 VS TRANCENTRAL STATION / IC THE MOTHERSHIP






PRESS
19BOX LIMITED launched its campaign with unreleased mixes of DJ 19 VS AUSTIN LEEDS's "Diamond Dust" - with a massive rendition from the phenomenal producers RABBIT IN THE MOON.
This is the sampler of DJ 19 & THOMAS PENTON's "19box Into The Battle Round 1" comprising of raw tracks used in the making of the album. Thomas Penton "Voodoo Magik" is a tribal monster. On the flip DJ 19 VS TRANCENTRAL STATION "IC The Mothership" is acid influence track with a queer voice.
THOMAS PENTON doesn't need any introduction. This South Florida veteran has been DJing, producing, & releasing techno projects since 1992. Penton's productions have been played for years by Sasha, John Digweed, Dave Seaman, Paul Oakenfold, and many others. Today, he has released over 50 various projects on some of the industries highest respected dance labels, including Perfecto, Baroque, Release, Armada, 19box, Stereo Productions & more. For-more his many past & present productions are featured on numerous compilations from some of the industries largest selling dance labels, such as Euphoria, Gatecrasher, Bedrock, and Perfecto. "Voodoo Magik" is written for "19box Into The Battle Round 1" CD. Already supported from big room Djs.
"IC The Mothership" is an update version of 19BOX's breakthrough track, TRANCENTRAL STATION's "Mothership" with DJ 19's "IC". "Mothership" was formerly the name of the biggest party in Tokyo where DJ 19 made his huge name. Trancentral Staion was formed as the project of DJ 19 & Hiro Kuretani. Trancentral has a hybrid significance of penetrating [Trans] and going beyond [Trance] combined with the core [Central]. Of course, it stands for their wish of that their music will be perceived as located in the center of music scene. "IC The Mothership" is also exclusive track for "19box Into The Battle Round 1" CD. Supported by Jonathan Lisle amongst others.
As Featured on DJ 19 & THOMAS PENTON's "19box Into The Battle Round 1" and DJ SAN's "ELEVATE" CD 

MEDIA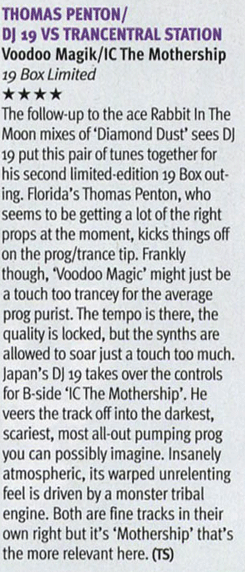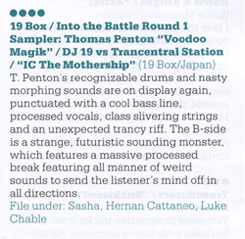 APPEARS ON
19BOX INTO THE BATTLE ROUND 1
DJ SAN'S ELEVATE