January 2006ARCHIVE
AMBROZIA / COX EP VOL.3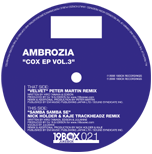 A : VELVET(PETER MARTIN REMIX)
B : SAMBA SAMBA SE(NICK HOLDER & KAJE TRACKHEADZ REMIX)






PRESS
AMBROZIA are DJ 19, EDISON and JULIANNE. Following up their club hit "It's U", AMBROZIA brings us their 3rd installment "COX CP VOL.3", taken from their debut album "VELVET". The excellent remixes come courtesy of PETER MARTIN and TRACKHEADZ (aka NICK HOLDER & KAJE).
PETER MARTIN is a nationally recognized musician. He teamed up with DEREK HOWELL under THE ALLEY QATS and PINKBOX SPECIAL. His interest in music began early in his childhood, originating around his talent as a violinist. Though he appreciated the intellectualism of his instrument, Martin sought a more energetic medium of sound through which he could best outlet his rhythmically creative drive. After a friend introduced him to early hip-hop, scratching, and acid house, he ultimately found himself funneling his talents through break beat, down tempo, and progressive house. 7 years later, Martin boasts an impressive resume, as he has been featured on numerous electronic compilations, including SANDER KLEINENBERG's "Nubreed", PETE TONG's "Twisted Beats", TAYLOR's "Synthesia", and PARKS & WILSON's "Painting on Silence", just to name a few. He has released a number of albums on METHOD Records and has work with ARMADA MUSIC and FADE! Records. His eclectic influences include SASHA, NICK WARREN, JOHN DIGWEED, DANNY ELFMAN, THE CURE, and DEPECHE MODE. When asked what he hopes to accomplish with his music he says simply, "I want to make as many people feel good as possible."
TRACKHEADZ are NICK HOLDER & KAJE from Tronto. The TRACKHEADZ as they are now called are set to release a set of albums, remixes and singles with NRK Sound Division, DNH Records and many more later on in 2005. NICK HOLDER doesn't need any introduction. He's an owner of Toronto's acclaimed DNH RECORDS, has been producing underground house music for the last ten years. As well as releases on his own DNH label, Holder has also produced respected EPs on the NRK, DEFINITIVE, STICKMAN, HI BIAS, STROBE and Germany's K7 label (two albums; "One Night In The Disco" and "Still On Track"). Nick's recording work spans the house sounds through to deep house, afro latin, hip hop ,Downtempo Detroit Electro, and minimal Chicago style. His work has found their way into the record boxes of such DJ luminaries as JOE CLAUSSSEL, ANDREW WEATHERALL, NICK WARREN, JUNIOR VASQUEZ, FRANCOIS K and RON TRENT. Nick has done remixes for labels such as: JUNIOR BOYS OWN, COMPOST, TOMMY BOY, VIRGIN and many others. KAJE is known to be one of the most unique individuals in the music industry today. For the last couple of years KAJE has been experimenting with Surround Sound, and has become the first artist to ever release an Electronic Surround Sound DVD in Canada. His work has also been recognized by the music elite when he was nominated at the 2003 Surround Sound Music Awards besides the likes of BECK, PINK FLOYD and JOHN MAYER.
As Featured on DJ 19&THOMAS PENTON's 19BOX INTO THE BATTLE ROUND 1 and DJ 19's "ADDICTIVE ASIA GATE 2 & 3"

REACTION
DJ SUPPORT:
BEN WATT (BUZZIN FLY / EBTG), AARON ROSS (FANATIX, DEFECTED/CURIOUS), D'JULZ , CHRS DUCKENFIELD (SWAG), KIKO NAVARRO, DJ MERI(RULERS OF THE DEEP), NICO DE CEGLIA, MARK ANTHONY, YVES EAUX, DEEPGROOVE and more.
PRESS:
IDJ by JEZ TORRANCE
RADIO:
DELICIOUS RADIO & NOVA FM by MICHAEL BLACK
V FM by DJ NIKI
ENERGY 98.6 FM by PAUL HUGHES
TOP RADIO by PERRY O'NEIL, TIM DAVIS and DJ 19
PROTON RADIO by DJ 19

MEDIA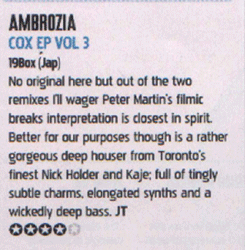 APPEARS ON
19BOX INTO THE BATTLE ROUND 1
DJ 19 presents ADDICTIVE ASIA GATE3
DJ 19 presents ADDICTIVE ASIA GATE2
STADIUM JAKARTA ESSENTIAL
PARTY 4 THE WEEKEND