July 2005ARCHIVE
POP SHUVIT / CONVERSATIONS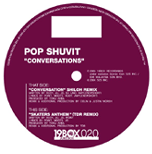 A : CONVERSATIONS (SHILOH REMIX)
B : SKATERS ANTHEM (TDR REMIX)






PRESS
19BOX(JUKEBOX) RECORDINGS celebrates its 20th releases with a Malaysian band called POP SHUVIT. Their distinctive sound is often recognized and based on rap-core style but this remixes also attracts and delivers to prog-breaks and electro sound fans. Especially, A side's SHILOH's remix got massive supports from big name DJs such as PHIL K, JONATHAN LISLE and PERRY O'NEIL. As a consequence, and not too surprising, the track has been licensed to NICK WARREN's GU Shanghai album.
SHILOH is one of the hottest and most prolific producers around, formed by brothers; COLIN and JUSTIN MOREH. They are remixing the likes of QUIVVER and HUMAN MOVEMENT and releasing the originals from ELECTROFLY, METHOD, BAROQUE, NASCENT and CUBA. And they have enjoyed huge support by the who's who list of the biggest progressive DJ's including SASHA, JAMES ZABIELA, JOHN DIGWEED, JONATHAN LISLE, HERNAN CATTANEO, LUKE CHABLE, TAYO, NICK WARREN, ADAM FREELAND, BLIM and MEAT KATIE etc. SHILOH's huge mark on the industry in such a short period time has been cut deep—and not just in the breaks community, but underground dance music as a whole anxiously anticipates each future offering.
On the flip, we prepare the pop-electro tune for radio and dance compilations. TDR stands for TOM DE RIDDER. Key to the success of his work is the ability to appeal to a wide range of peo-ple, crossing the borders between house, techno, electro and trance scenes. Fat bassline, killer snares and straight to the heart. That's the TDR trademark. He's famous for "Squelch" and "Coming Down".
As Featured on NICK WARREN's GU SHANGHAI & DJ 19's ADDICTIVE ASIA

REACTION
DJ SUPPORT:
NICK WARREN, PHIL K, JONATHAN LISLE, FERGIE, CHRIS FORTIER, JERRY BONHAM, PERRY O'NEIL, MOSHIC, DISPOSABLE BREAKS DJs, ANN D, IAIN TAYLOR and more.
PRESS:
IDJ by JOSE RIERA
IDJ by TOM MAGIC FEET
mixmag by JANE HASSANALI
RADIO:
TOP RADIO by HANS, TIM DAVIS and DJ 19
GONG FM by GABOR TOSH
KISS FM by JOHN ASKEW
PROTON RADIO by SHILOH and DJ 19

MEDIA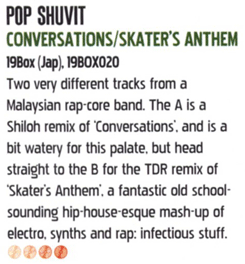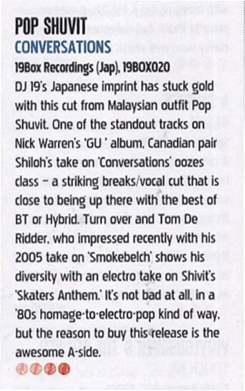 APPEARS ON
19BOX INTO THE BATTLE ROUND 1
DJ 19 presents ADDICTIVE ASIA
NICK WARREN GLOBALUNDERGROUND SHANGHAI #028