March 2005ARCHIVE
DJ 19 VS AUSTIN LEEDS / DIAMOND DUST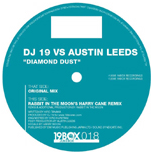 A : ORIGINAL MIX
B : RABBIT IN THE MOON'S HARRY CANE REMIX






PRESS
Here's the very special upcoming release on the ever impressive 19BOXRECORDINGS, from Japan, which follows the remarkable "IMA" by DJ 19 VS THOMAS PENTON, and is quality as brilliant, so please welcome the DJ 19 VS AUSTIN LEEDS.
AUSTIN LEEDSis without a doubt one of the hottest new producers in the house music world. Based at his home in Miami, Florida. Austin devotes countless hours to his many and varied Dj/Production projects. His impressive track record has already attracted the attention of many major DJs and producers like SASHA, DIGWEEDand DEEP DISH.Austin has had studio collaborations with well known artists and DJ's including JIMMY VAN M, CASS & SLIDE, KOBBE, MARA, MARCUS SCHULZ, LUKE CHABLE, INNATE, NU-BREEDand ORIGIN. And This time, AUSTIN LEEDS teams up with Japan's priority, DJ 19.Needless to say, DJ 19 is a top Japanese DJ who owns two records labels, 19BOX and PARK LIMITED MUZIK. DJ 19 wrote a song after he saw a nature documentary show about diamond dust; hence the title of the track. HARRY MOON, a member of RABBIT IN THE MOONCrew and also a good friend of DJ 19, did the vocal for the DIAMOND DUST. The original version was featured on DJ 19's ADDICTIVE ASIA, a mix CD series that is released every three months!
On the flip side, RABBIT IN THE MOON needs no introduction. They are responsible for remixing an array of artists, including GARBAGE, ORBITAL, THE SMASHING PUMPKINS, SARAH McLACHLAN, GOLDIE, BTand PLANET PERFECTOjust to name a few. Their tracks always supported by big DJs such as PAUL OAKENFOLD, SASHA, JOHN DIGWEED, ANTHONYPAPPA, ADAM FREELANDand LEE BURRIDGE. While they were working on the remix, three hurricanes attacked in Florida (now they're moving to LA). Originally it was titled Hurricane Remix, but renamed to Harry Cane Remix -- from its vocalist Harry Moon.
This looks set to be 19BOX recordings biggest release to date.
As Featured on DAVE SEAMAN & LUKE CHABLE'S RENAISSANCE

REACTION
DJ SUPPORT:
DEEP DISH, JOHN DIGWEED, SASHA, ANTHONY PAPPA, DAVE SEAMAN, MOSHIC, ANDY HOLT, ANDY HOLT(TARENTELLA & REDANKA), MATT & JON (STANDBY), NICHOLAS BENNISON, MIGUEL PELLITERO and more.
PRESS:
URB by Dennis Sebayan
BPM by JONATHAN OJEDA
Update Magazine by KRIS NEEDS
DJ by TIM STARK
DJ by NICK BATES
iDJ by JOSE RIERA
DJS IN BOX by CHRISTIAN STERIOPULOS
RADIO:
MINYSTRY OF SOUND by Standby, Matt & Jon
SOUTHERN 102.4 FM (UK) by PAUL HILLYER
106.8 FM (HOLLAND) by GERARD RUSSCHENBERG
ENERGY FM (UK) by PAUL HUGHES
TOP RADIO by TIM DAVIS and DJ 19
PROTON RADIO by DJ 19
MEDIA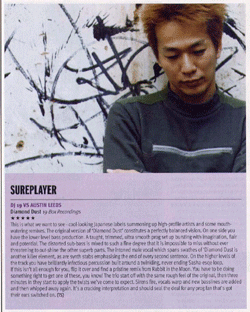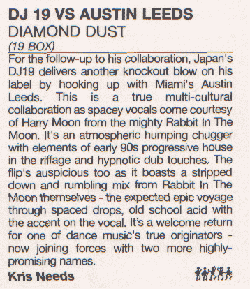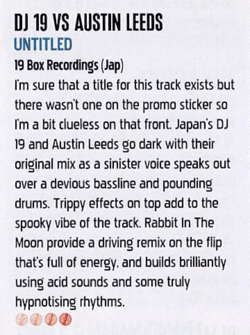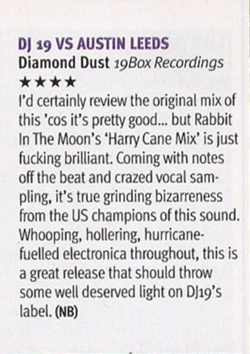 APPEARS ON
19BOX INTO THE BATTLE ROUND 1
DJ 19 presents ADDICTIVE ASIA GATE 2
RENAISSANCE THERAPY SESSIONS VOLUME 2