August 2004ARCHIVE
DJ 19 VS THOMAS PENTON / IMA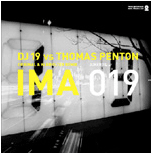 A : ORIGINAL MIX
B : KLUBFILTER REMIX






PRESS
This is the19th releasefrom19Box, the quality house label set up by Japanese DJ and producer DJ 19. The label was set up in 1999, with the name 19Box being a play on words in Japanese, "19" is pronounced "Jukyu", so 19Box sounds like Jukebox.
DJ 19, who releases his music under 19Box and its new sister label Park Limited Muzik, has also released tracks through Dorigen, Hook, Oxyd and Spundae, made great ambitious tracks withThomas Penton. Thomas Penton previously remixed DJ 19's "Breakin' of the Dawn", and has a similar musical style to DJ 19.
This release features Japanese vocals, from TA, of Maji Na Damu. DJ 19 previously produced the Maji Na Damu project, which was included on Paul van Dyk's mix CD "The Politics of Dancing". "IMA" means NOW in English. The original track has a techy and progressive sound, and is an experimental track which features Japanese vocals. It has already been included onDJ 19's new mix CD "ageHa Vol. 2".
On remix duties areKlubfilter, who are creators released from Royal Flush in France, and already received widespread acclaim for their Detroit-flavoured fresh house tunes "Illumination" and "Revelation". Danny Krivit used "Illumination" in "Nite:Life 011", and so many deep house fans also highly rated the track. Klubfilter also do remixes and original tracks under the name of Front Desk, and recently they formed a new project with DJ Jean Jerome, called "Dog's Biscuits". For this remix they have made a fully filtered mix which includes the vocal as a main part of the mix.

REACTION
DJ SUPPORT:
HERNAN CATTANEO, ANTHONY PAPPA, DJ CHUS, MIGUEL PELLITERO, STEFANO GREPPI, MOSHIC, SAN FRAN'S JERRY BONHAM, FRED NUMF, ABOVE & BEYOND, G PAL, TUNE INN'S PETE GAWTRY, GREG BENZ, NICHOLAS BENNISON and more.
PRESS:
BPM by JONATHAN ODEJA
URB by JOLIE LASH
PROGRESSIVE-SOUNDS by CHLOE HARRIS
DJS IN BOX by CHRISTIAN STERIOPULOS
RADIO:
MINISTRY OF SOUND RADIO by JON SINCLAIR & MATT RICKARD
ENERGY FM by PAUL HUGHES
SMIRNOFF EXPERIENCE by G PAL
FRANCE'S RADIO PLURIEL by JULIEN ROBY
MINISTRY OF SOUND RADIO by ABOVE & BEYOND
RADIO SUNSHINE by MARTIN EYERER
TOP RADIO by TIM DAVIS and DJ 19
PROTON RADIO by DJ 19
MEDIA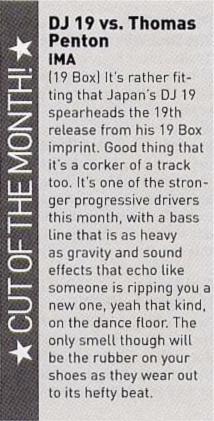 APPEARS ON
19BOX INTO THE BATTLE ROUND 1
ageHa Vol.02
STADIUM JAKARTA ESSENTIAL
PARTY 4 THE WEEKEND