19BOX017
MARINO BERARDI/ CLEAR THE SKIES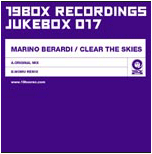 A : ORIGINAL MIX
B : MOMU REMIX






PRESS
The new release from the 19Box stable is from Italian MARINO BERARDI.BERARDI now lives in Luxembourg, but the passion that is characteristic of Meditteranean people obviously runs in his veins, judging by his music.As a remixer, he worked on GOOD PEDESTRIANS' "THE MOMENT"(19Box009).
MARINOalso runs his own MB RECORDINGSlabel, and has released tracks from labels as varied as SUBLIMINAL, OVUM, WAVE, SIESTA, MOODY, SPECIAL NEEDS, EC, VENDETTA, FRESH FRUITand WALLY'S GROOVE WORLD, garnering interest and respect from a wide range of DJs. MARINO previously wrote with LOUIS BOTELLA, creating more disco-flavoured sounds, however his solo music has a dubby sound, inspired by Detroit techno. His solo track was picked up by DANNY HOWELLS for use on the "RENNAISANCE REVELATION" CD, and since then his tracks have been played by many big DJs.
This new original track, "CLEAR THE SKIES", combines the atmospherics of UNDERWORLD and Detroit techno.WALLY LOPEZplayed the track on RADIO ONE's ESSENTIAL MIX, FREDERIK (from PAKO & FREDERIK)played it on MINISTRY OF SOUND RADIOand DJ 19played on Belgium's TOP RADIO.NOEL SANGERis presently really pushing the record.
MOMU did a great reworking of the track, which uses the essence of their original "spacial architecture" in breakbeat.JONDI (from JONDI & SPESH)and MARK MUSSELMAN(one of the most popular breakbeat DJs) formed the project MOMU together in San Francisco. They have released original tracks from BEDROCK BREAKS, KUBIST, SPUNDAE RECORDINGS, LOOQ RECORDS and FUNCTIONAL BREAKS, and will release from 3BREAKBEAT. Their tracks have been used on a wide range of mix CDs, such as NICK WARREN "REYKJAVIK" (GLOBAL UNDERGROUND), "AFTERHOURS" (GLOBAL UNDERWORLD), DJ HYPER "BEDROCK BREAKS" (BEDROCK BREAKS)and PHIL K "RETRO FUTURE" (FUNCTIONAL BREAKS).His amazing tracks are supported by JOHN DIGWEED, SASHA, JERRY BONHAM, ADAM FREELAND, LEE BURRIDGE, CASS, HERNAN CATTANEO, DJ HYPER, ASHLEY CASSELLE, NICK WARREN, JONATHAN LISLE, BLACKWATCH, STEVE GERRARD and HYBRID.

REACTION
DJ SUPPORT:
HERNAN CATTANEO,CHRIS FORTIER, WALLY LOPEZ, JAMES ZABIELA, ELITE FORCE, MOSHIC, PETE GOODING, JERRY BONHAM, DJ FLIX, CHRIS CARGO, (PAKO&)FREDERIK, DAVE BEGG,DEREK TAYLOR, NICO DE CEGLIA and more
PRESS:
MIXMAG by EMILY BROMFILED
M8 by DAVE BEGG
URB by BEN HEBEL
BPM by JONATHAN OJEDA
BIG SHOT by NICHOLAS BENNISON
IDJ by JOSE RIERA
HOLLAND'S XPANDER WEBSITE by PATRICK WILLER
PROGRESSIVE SOUNDS WEBSITE by CHLOE HARRIS
RADIO:
BBC RADIO 1 ESSENTIAL MIX by WALLY LOPEZ
MINISTRY OF SOUND RADIO by FREDERIK
ENERGY FM by PAUL HUGHES
FNX NETWORK by MIKE TRAYLOR
MINISTRY OF SOUND RADIO by DJ FLIX
POWER/SPOUTHERN FM by PAUL HILLIYER
MINISTRY OF SOUND RADIO by NICO DE CEGLIA
TOP RADIO ROTATIONZ by DJ 19
PROTON RADIO by MOMU
MEDIA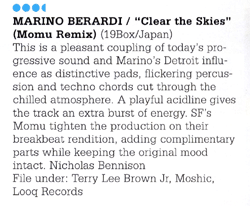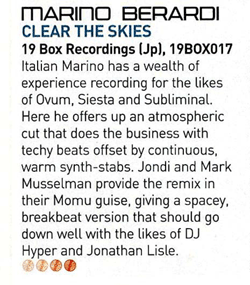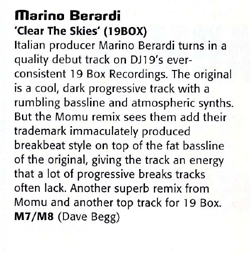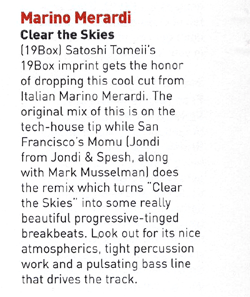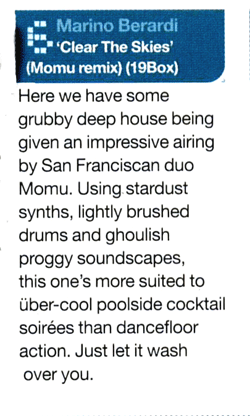 APPEARS ON
19BOX INTO THE BATTLE ROUND 1
DJ 19 presents ADDICTIVE ASIA
STADIUM JAKARTA ESSENTIAL