September 2003ARCHIVE
DJ 19 / OCEAN DRIVE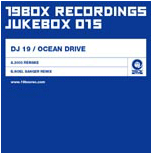 A : 2003 REMAKE
B : NOEL SANGER'S DECO-RETRO FUNK REMIX






PRESS
This is the new release from the top Japanese and renowned creator, DJ 19. He has recently drawn attention for "Dreams / Big Dreams" from Dorigen and inclusion of his original ambient tracks under the name Ambrozia on the recent "Real Ibiza VI "(React). Ambrozia have also been ranked on the UK's Cool Cut chart. These releases have highlighted that DJ 19 is steadily progressing as a flexible and enthusiastic artist.
The track "Ocean Drive" was named after the beautiful road by the beach in Miami, something which is a standout memory for many Miami visitors. DJ 19 was inspired by this place when he visited Miami for the Miami Winter Music Conference. The original version of this track was first released on DJ 19's mix CD series "DJ 19 presents Essence Phase II", which was released two years ago. The new version on this single has been totally redone in a housey and groovy style. The use of strings in the mix is reminiscent of soundtrack music, and is a new production approach for DJ 19. This track reveals a deeper understanding of music and shows a wider production talent of DJ19. (At the same time as this release, the record Momu "Bring it Back"(Spundae) will also be released, which includes the DJ 19 remix).
Noel Sanger, who remixed the track for the Bside of the single is an up and coming producer and DJ from Florida, who has drawn parallels with BT. Sanger is released from Music Now Records (USA), also previously home to artists such as BT, and Sanger has recently released original works from Bill Hamel's Teknology (USA) and Release Records (Canada). His debut album "Summer Breeze 2" (Nettwerk USA) was mixed by Tiesto, and was the second in the series. Sanger took part in Tiesto's recent North American tour as the support DJ, and his album (a mix of 4/4 and breakbeat) has been held in high acclaim. Sanger has remixed a number of high-profile artists such as Jan Johnston, Delerium, BT and Mezz. Recently he has done a bootleg mix of Big Country and worked on Hyper. The remix on this single is Sanger's speciality: a 4/4 stormer!

DJ SUPPORT:
SASHA, JOHN DIGWEED, HERNAN CATTANEO, JERRY BONHAM, G-PAL, PETE GAWTRY, PLASTIC FANTASTIC'S ENZO, PLASTIC SURGERY'S OWEN, MIKE TRAYLOR, GREG BENZ, OSCAR BARRERA, NICHOLAS BENNISON, DAVE BEGG, SPESH, ROMINA RODRIGUEZ and more
PRESS:
BIG SHOT by NICHOLAS BENNISON
BPM by Jonathan Ojeda
M8 by DAVE BEGG
HOLLAND'S XPANDER WEBSITE by PATRICK WILLER
RADIO:
ROTON RADIO by VILLO
ENERGY FM by PAUL HUGHES
KEY 103 by ANDY PRICE
NOVA 94.7 FM by BRIAN CODY
POWER/SOUTHERN FM by PAUL HILLYER
MEDIA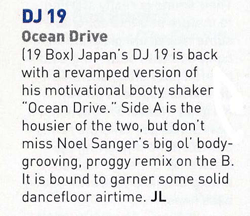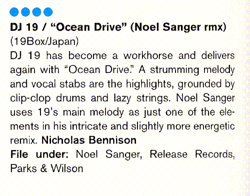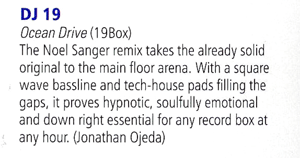 APPEARS ON
19BOX INTO THE BATTLE ROUND 1
DJ 19 presents ESSENCE PHASE TWO
CLUB TOKIO MIXED LIVE BY DJ 19
DJ 19 presents ADDICTIVE ASIA GATE 2
STADIUM JAKARTA ESSENTIAL