July 2003ARCHIVE
AMBROZIA / COX EP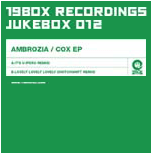 A : IT'S U (PERC REMIX)
B : LOVELY LOVELY LOVELY (SWITCHSHIFT REMIX)



PRESS
The sound that 19Box will send to you this summer are remixes of DJ 19's chill-out outfit AMBORZIA, by PERC and SWITCHSHIFT.
The A-side is percussive and has keyboard pad sounds which are reminiscent of the 80's - a new style of sound.SATOSHI TOMIIE, JAMES HOLDEN, MAIN ELEMENTS (GWILL MORRIS) and MOSHIC are already playing the track. The original version was featured in REAL IBIZA VI(REACT).The B-side is the first breakbeat track to be released through 19Box.This is the best work of SWITCHSHIFT, which features drifting sound than is talen further than that of, say, CHICANE.
PERC(aka SPARTAK, VOTION and Alistar Wells)is an highly-rate up-and-coming artist in the percussive style.He has received strong support from big artists such as DEEP DISH, ANTHONY PAPPA, KING UNIQUE, X-PRESS 2, SAEED&PALASH and JAMES HOLDEN.He has also released original tracks and remixes through labels such as EASY ACCESS, SILVER PLANET, CHOO CHOO, PREMIER SOUNDS, LIMBO, SOURCE OF GRAVITY and MINDSET.In addition to DJing, PERC also manages labels such as PREMIER SOUNDS, PRIMATE and PRIMEVIL from Prime Distribution.
SWITCHSHIFT(Alastair Lindsay)is a up-and-coming star in the breakbeat scene. He has been working with FREAKABOOM RECORDSand remixing INVINCIBLEand SHEETHANGER. He won the Future Music Magazine/Roland UK "Hybrid Remix" competition in 2001.He has received support from B.L.I.M, RENNIE PILGREM and STANTON WARRIORS.

REACTION
DJ SUPPORT:
HERNAN CATTANEO, SATOSHI TOMIIE, ELITE FORCE, JAMES HOLDEN, MOSHIC, ANDY MORRIS, MARK JAMES, TROY ROBERTS, FREDERIK, HELLPASS, BARRY GILBEY, DEREK TAYLOR, DJ KOOKI, GWILL MORRIS, JERRY BONHAM and more
PRESS:
ENTERED THE COOLCUTS CHART AT NO.20, PUBLISHED IN MUSIC WEEK & THE DOTMUSIC WEBSITE
M8 by DAVE BEGG
BPM by JONATHAN OJEDA
HOLLAND'S XPANDER WEBSITE by JERRY
RADIO:
KISS FM by ANDY MORRIS
MINISTRY OF SOUND by DJ FLIX
BEAT 106 by ALI JENGAHEAD
KEY 103 by ANDY PRICE
TOP RADIO by TIM DAVIS
BREAKS FM by DATABASS
PROTON RADIO by TROY ROBERTS
MEDIA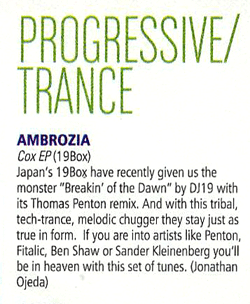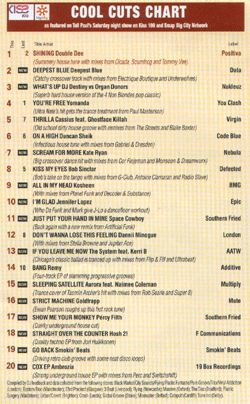 APPEARS ON
19BOX INTO THE BATTLE ROUND 1
STADIUM JAKARTA ESSENTIAL
PARTY 4 THE WEEKEND