March 2003ARCHIVE
DJ 19 / BREAKIN' OF THE DAWN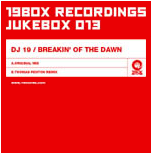 A : ORIGINAL MIX
B : THOMAS PENTON REMIX






PRESS
This is DJ 19's new single. One of the top DJ's in Japan, DJ 19 runs his own label 19Box(Jukebox) in addition to producing music under a variety of aliases, including Trancentral Station and Ambrozia. The follow up to "IC"(19Box 010), this track is definitely one to be played at the peak time of the night, featuring beautiful chrords leading to a breakdown. This track has been played many times on Paul van Dyk's radio show "Radio Fritz", and the Thomas Penton remix has been played on John Digweed's Kiss 100 FM's show. A powerful progressive number.
DJ 19 started by releasing the track "Phuturefunk" from Chris Cowie's label Hook's sublabel Panther. He is set to release the tracks "Superqueen" from MB and "Dreams / Big Dreams" from Dorigen. As a remixer, DJ 19 has remixed Momu, Romanthony and the Japanese group Maji Na Damu, which was featured on Paul van Dyk's mix CD. Not only a creator, DJ 19 has been busy making his name as a DJ around the world, playing at Bedrock at Heaven. As the resident of the party The Ocean in Japan, DJ 19 has continued to DJ through Asia, America, England and Italy. His compilation mix CD series, "Essence", is DJ 19's tenth compilation release, and enjoys a very good reception in Japan. His new mix CD "DJ 19 Presents Essence Phase Three" features the aforementioned Thomas Penton remix.
Remixer Thomas Penton is a veteran producer from Florida, whose work has been supported by Sasha, J. Digweed, Dave Seaman, Anthony Pappa, Nick Warren, Paul Oakenfold, Sandra Collins and Paul van Dyk to name a few. His first main hit was "Cliffhanger" released from Tune Inn, which charted at No.1 on USA's Balance Pomote Group. He has since release tracks such as"Alluvion" from Sunkissed under the name Penton & Pascale, "Control Factor" from Stellar under the name Penton & Duran.His works have been released on a variety of compilations, such as Euphoria, Gatecrasher, Bedrock mixed by Chris Fortier and Perfecto mixed by D:Fuse.Recently he has released remixes on Bill Hamel's Sunkissed/Technology label,as well as original music from the Sunkissed label, which has been featuredon Dave Ralph's mix CD, receiving a lot of attention.
REACTION
DJ SUPPORT:
PAUL VAN DYK, SATOSHI TOMIIE, CHRIS FORTIER, PAKO & FREDERIK, JERRY BONHAM, ALI WELLS, MURAT UNCUOGLU, BRIAN STILLWATER, GREG BENZ, LOW END SPECIALISTS, SPESH and more
PRESS:
M8 by DAVE BEGG
M8 by DEREK TAYLOR
iDJ by JOSE RIERA
URB by PAKO & FREDERIK
UPDATE by JERRY BOUTHIER
HOLLAND'S XPANDER WEBSITE by ROBBERT
RADIO
LONDON KISS FM by STEVE SMART
LONDON KISS FM by DJ MURAT, HOSTED BY JOHN DIGWEED
FIRE 107.6 FM byTHE WEATHERMAN
SCOTLAND'S CLYDE1 FM by JON MANCINI

MEDIA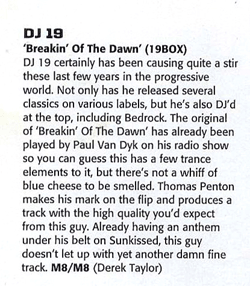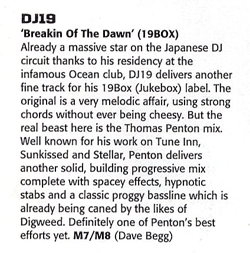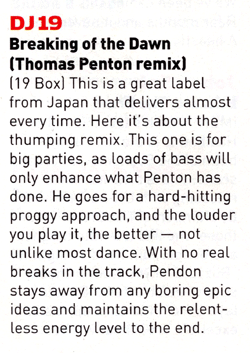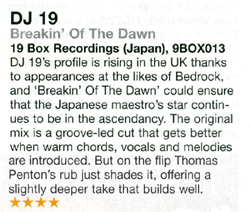 APPEARS ON
19BOX INTO THE BATTLE ROUND 1
DJ 19 presents ESSENCE PHASE THREE
CLUB TOKIO MIXED LIVE BY DJ 19
LABYRINTH_SELECTION.003
CHEMICAL LOVERS
STADIUM JAKARTA ESSENTIAL