March 2002ARCHIVE
GOOD PEDESTRIANS / THE MOMENTS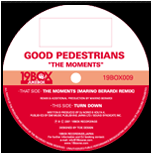 A : THE MOMENTS (MARINO BERARDI REMIX)
B : TURN DOWN




PRESS
Debut title of GOOD PEDESTRIANS(unit of KOUTA K. and DJ NORIO).
KOUTA K. is a creator acclaimed for techy sound making, releasing titles in SYLVERBOX's name from CHOCI'S CHEWNS, in SLEEPWALKER's name from SUB#, and in OUTACK's name from HOUSE DUST. DJ NORIO works for a record shop in Tokyo.
These years both of them are interested in Tech-House, and affected by especially the west coastal sounds. The remixer of this title, MARINO BERARDI, is a Luxembourg-based producer specializes in Tech-House. There have been some releases from labels like WAVE, MOODY and SUBLIMINAL. Also he is a promissing creator as explained by the fact that he was picked up by "MUZIK" TECHNO corner.
This title has previously been included on DJ 19's MIX CD "DJ 19 PRESENTS ESSENCE PHASE TWO〜twisted & sexy grooves〜".
19 Box Recordings is a label based in Japan, and run by DJ19 who was recently a guest on John Digweed's KissFM show. You may have heard one of their releases yet not been aware of the fact as their release Transcendtral Station - Mothership was on Bedrock 2.

APPEARS ON
19BOX INTO THE BATTLE ROUND 1
DJ 19 presents ESSENCE PHASE TWO
STADIUM JAKARTA ESSENTIAL