19BOX005
H. GARDEN / PASSAGE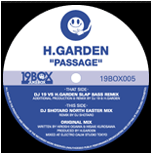 A : DJ 19 VS H. GARDEN SLAP BASS REMIX
B1 : DJ SHOTARO NORTH EASTER MIX
B2 : ORIGINAL MIX 
PRESS
The 5th release from 19BOX RECORDINGS is "Passage" which is included in DJ 19's "Chil l Out Essence". It became more powerful than ever as a floor track that will remind lots of you of Underworld.
H.Garden has been regarded as Japanese version of CHICANE. They have been playing under the name MASTER MIND for a while and recently with DJ 19, doing remix for JAY and MAJI NA DAMU.
DJ SHOTARO is the brightest hope, who is also the resident DJ at party in Sendai. This is the material from his first official recording.
"DJ19 VS H. GARDEN SLAP BASS REMIX" is included in "DJ 19 PRESENTS ESSENCE PHASE ONE〜deep & funky concentration〜".
 
APPEARS ON
DJ 19 presents ESSENCE PHASE ONE
CHILL OUT ESSENCE