19boxrec: May 2003ARCHIVE
FITALIC / REPRICED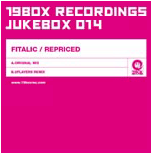 A : ORIGINAL MIX
B : 2PLAYERS REMIX






PRESS
DJ 19's label 19BOX, producing a series of hits like ROMAN S. "Pleasure Me", DJ 19 "Breakin' Of The Dawn". The new work is from the Netherlands, where many DJs and creators are produced, like REMY, PAKO & FREDERIK, SANDER KLEINENBERG, STEF. "Repriced" by FITALIC, is the hot stock as a new talent.
Original version has a distinctive feature in the bass line with a trancy progress. It helps a lot to make the development at events, and it is essential for DJ sets. On the other hand, the 2PLAYERS remix is completely different form the original version. It has a trance taste but not cheesy,and having fine melodic sounds and at the same time having a dark atmosphere with an uplifting finishing touch.
FITALIC is a pair of JEROEN WUNDERLICH and ROBIN FITTER, PAKO & FREDERIK direct descent from the Haugue(NL). Work was started in 98 and the musical piece of 100 or more is made until now. They have released titles from labels such as "VAPOUR" and "PLAY", and from now on more to be released from "BEDROCK", "MAJESTIC", etc.
As a solo work of ROBIN FITTER, there has just been a new released title "Activate/Structural Beat" from MAELSTROM (UK) in the ACCESSIVERHYTHM name.The tracks of FITALIC have been played and supported until now by JOHN DIGWEED, DANNY HOWELLS, KASEY TAYLOR, CHRIS FORTIER, JERRY BONHAM and REMY etc.
2PLAYERS is a unit of Israeli DJ ROBERT popular in the Netherlands and JARON MARTINEZ. They are also known as G&M PROJECT name. They have a weekly program at the greatest dance music radio station "Radio bu99FM" in local Israel, and their world wide activities have begun with the release from PHONOKOL, the greatest label in the country. They are supported by FERRY CORSTEN, MARCO V, ARMIN VAN BUUREN, PAUL VAN DYK, JUDGE JULES, DJ STIGMA,PUSH, SCOT BOND, BLANK AND JONE, etc. Their tracks are recorded in several compilation albums such as "FERRY CORSTEN world tour - Tokyo", "GATECRASHER Experience Compilation". As 2PLAYERS name, "Signet" from German label AFTERGLOW RECORDS is licensed to the LOST LANGUAGE the sub label of HOOJ CHOONS.
ROBERT GITELMAN, alias DJ ROBERT is famous for a host TP at the largest radio station in Israel "RADIO BU 99FM", and some call him PETE TONG of Israel. Other than 2PLAYERS, he has released as G&M PROJECT, ROBERT GITELMAN, TAZE, DJ ROBERT&THE MARTINEZ BROSM, etc. Especially "Feeling The Sunrise" of a G&M PROJECT name was supported by many DJs, such as PAUL VAN DYK, JUDJE JULES, FERRY CORSTEN, and ARMIN. Remixs, such as BLANK&JONES, continue to be released.

REACTION
DJ SUPPORT:
JOHN DIGWEED, PAUL VAN DYK, SATOSHI TOMIIE, MAX GRAHAM, PAKO & FREDERIK, D:FUSE, CHRIS FORTIER, JERRY BONHAM, TREVOR REILLY, COLIN TEVENDALE, DAVE BEGG, MARK KAVOCH, TROY ROBERTS, NICO DE CEGLIA, CHRIS CARGO, GREG BENZ , PETE GAWTRY, MARK OLIVER, MARCUS SCHULZ, ROBERT OLEYSYCK, SPESH and more
PRESS:
DJ Mag by NICK BATES
M8 by DAVE BEGG
URB by JOLIE LASH
iDJ by JOSE RIERA
HOLLAND'S XPANDER WEBSITE by DAVE
RADIO:
RADIO FRITZ by PAUL VAN DYK
SRH NETWORK by TREVOR REILLY
TOP RADIO by TIM DAVIS
PROTON RADIO by TROY ROBERTS
ARGENTINA'S METRODANCE FM (RADIO 1 EQUIV) by ROMINA RODRIGUEZ
ISRAELS RADIOACTIVE EXPERIENCE by JEZ PORAT.

MEDIA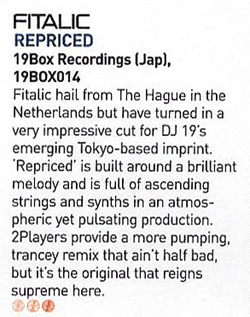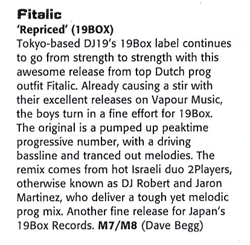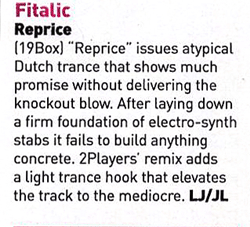 APPEARS ON
19BOX INTO THE BATTLE ROUND 1
STADIUM JAKARTA ESSENTIAL