19boxrec: June 2001ARCHIVE
TRANCENTRAL STATION / TEARS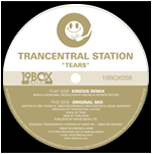 A : KINESIS REMIX
B : ORIGINAL MIX




PRESS
Here we have the 4th single from TRANCENTRAL STATION. TRANCENTRAL STATION was formed as the project of DJ19 in May of 1999. TRANCENTRAL has a hybrid significance of penetrating "Trans" and going beyond "Trance" combined with the core "Central". Of course, it stands for their wish of that their music will be perceived as located in the center of music scene.  
DJ 19 has been playing as a resident DJ at House/Trance party, "the ocean(ex:MOTHERSHIP) & renaissance Tokyo ". The party also holds the world top class DJs including Paul Van Dyk, Sahsa, Dave Seaman and so on. He has released a number of Mix CDs, which leads to the introduction of miscellaneous kinds of music to Japanese music scene. Also he is using various artist names to actively release those CDs. He produced many of them, and he also runs 19BOX RECORDINGS. The original mix is a live bass-driven funky house workout with a superb midsection vocal break that leave the dancefloor screaming out for more.
It was remixed by KINESIS, who has been releasing his works mostly from INTRISTIC label in UK. He has done dozens of remixes and known as the favorite of the worldly famous DJ, Dave Seaman. He turns in a remix of cool progressive deepness that's found a place in the boxes of Anthony Pappa and John Digweed amongst others.
19BOX RECORDINGS has now a contract with 3BEAT MANEGEMENT, through which it starts the worldwide release and distribution, and this will be the first attempt.
 
APPEARS ON
DJ 19 presents ESSENCE PHASE TWO
LA FILLE NATURELLE