19BOXAL011
VALID EVIDENCE / THE SOUND SHOULD BE WHERE IT SHOULD BE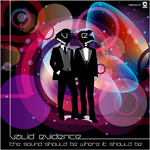 01.SKIM THE WAVE
02.LA MER
03.DOWN TO THE EARTH
04.THE WAY IT IS
05.CRUSH(ALBUM MIX)
06.ANGEL DUST
07.I LIKE CHOPIN feat. arlie Ray
08.INTERLUDE
09.A DREAM WITHIN A DREAM(ALBUM MIX)
10.LOCAL ANESTHESIA
11.CASINO ROYALE
12.LAST CHRISTMAS


PRESS
Valid Evidence, the Japanese Balearic outfit formed by DJ 19 & Yu-Ta is back in action with their epic 2nd album entitled "The Sound Should Be Where It Should Be". Their first album "This Is A Journey Into Sound" was released in 2008. After releasing their debut album, they have been busy remixing many artists such as Luka G, Sumantri, Hovelmann and releasing a remix project called 'Journey'. As such, you may already be familiar with the remix versions on 'Journey' or those tracks that have been featured on compilations.
The album includes 4 cover tunes. 'I Like Chopin' was previously brought to fame by the Italian artist known as Gazebo. However, in Japan a cover version by Asami KobayashiI is more popular than original. As a result, they have covered the Japanese cover version. 'Casino Royale' is famous for the music done by Herb Alpert and The Tijuana Brass on the James Bond film. The 3rd cover is 'The Way It Is' that was a number one US Hit in 1986 by Bruce Hornsby and The Range. Finally, the last cover is of the 1980s Wham! holiday classic 'Last Christmas' done in a Spanish Balearic Islands chilllout style.
Valid Evidence's trademark piano sounds make you feel as though you're lying a warm beach while the breeze blows off the sea. Alternately, their music is a perfect fit for regular activities like jogging, cooking and so forth. As the title of the album suggests, their music is the sound that should be where it should be - whatever the situation!
"確固たる証拠"という意味を持つVALID EVIDENCEは、DJ 19 & YU-TAから成るバレアリック・アウトフィット。ピアノを基軸にしたサウンドは、シケイン的でありながらも、現代版ジャズマスターズ、あるいはシャカタクといった体裁を取り、過去のクラブ・クラシックへのオマージュを散りばめ、ハウス、ブレイクス、ダウンテンポ、ラウンジ、チルアウト・・・と様々なジャンルを横断。アルバムとしては、沖縄民謡やシャカタクの「Night Birds」までカヴァーしてみせた『This Is A Journey Into Sound』を'08年に発表。リミキサーとしては、シャカタク、ホーヴェルマン、ジュリアンヌ、スマントリなどを手掛けている。
2ndアルバムでは、ガゼボがオリジナルで、日本では小林麻美のカヴァーでお馴染み「雨音はショパンの調べ」、BSイレヴンとタッグを組んだバカラック・トリビュート・アルバムへ提供したハーブ・アルパートの「Casino Royal」、ブルース・ホーンズビー&ザ・レンジの「The Way It Is」といったカヴァーだけでなく、過去にコンピに提供した楽曲に、シングルとしてリリースした「A Dream Within A Dream」に「Crush」をアルバム用にエディットするなどし、1st同様、幅広い音楽性を見せつけている。GEOレンタル専用のCDヴァージョン『Healing Cafe Romance』とは大幅にトラックリストが異なる。
RELEASE DATE : February 26th, 2014