19BOX069
DENNIS "SHANGO TREX" LLEWELLYN featuring CATAPILA / CARIBBEAN QUEEN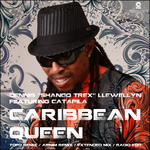 1.TOPO REMIX
2.ARNIM REMIX
3.EXTENDED MIX
4.RADIO EDIT


SHANGO TREX CATAPILA TOPO ARNIM




PRESS
After the release of Rise And Shine 3.11's 'Rise And Shine', 19BOX has developed a strong connection in reggae circles. Dennis "Shango Trex" Llewellyn is now set to release his cover version of Billy Ocean classic 'Caribbean Queen' with stellar remixes from Topo and Arnim.
Dennis "Shango Trex" Llewellyn hails from New York by way of Kingston, Jamaica. He has been on the reggae music scene since the 1980s, where he's known for blending the impact and melody of soul music with the rhythm, groove and feel of reggae. He has released tracks using the guises of Smiley Al-phanso, Prince Shango, Shango Trex. Recently he's changed his focus to one that suits a more soulful style, so he's now using Dennis "Shango Trex" Llewellyn name.
'Caribbean Queen' is co-produced by DJ 19 + Edison - who are better known as the production outfit Ambrozia. Their production has a unique bonus that features an additional part by reggae artist Catapila.
For the first remix, we have employed Romanian DJ / producer Topo. He has released many tracks on la-bels such as SYSTEM RECORDINGS, KLIK, BAROQUE, PROGREZO and many others. His remix makes use of the full vocal and has already featured on the "Pistol Bar Presents Viva Tequila Vol.1" CD.
For the second remix, we have brought in the the talents of German DJ / producer Arnim. He has re-leased techy tracks on labels like STEREO PRODUCTIONS, 99PERCENT, SOUNDS GOOD, as well as others. He is also part of The Synchronizers, so watch out for some serious action!

RELEASE DATE : May 15th, 2013(beatport) , June 12th, 2013(other)