19BOX043
GENUINE FAKES / ALL NIGHT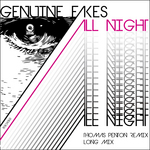 1.THOMAS PENTON REMIX
2.LONG MIX
GENUINE FAKES THOMAS PENTON


PRESS
"All Night" has been taken from the Genuine Fakes debut album "Okinawa Lounge Sessions" on 19BOX RECORDINGS. Several of the tracks from said album have reached number one on a Japanese digital download website. Genuine Fakes is the alias of a famous Japanese producer who wishes to remain anonymous.
This package, which follows "Because Of You" includes our label-favourite Thomas Penton and an extended mix from Genuine Fakes himself.
Thomas Penton needs no introduction. He's been one of 19BOX RECORDINGS' few main artists after he finished a remix of DJ 19's "Breakin' Of The Dawn". Today, he has released over 100 various projects on some of the industries highest respected dance labels, including PERFECTO, ARMADA, SYSTEM REC., IN CHARGE, BEATFREAK, STEREO PRODUCTIONS, SUTIL, BAROQUE and many more. Now he's also known as one half of Crackerjack - which is a collaboration in between Thomas Penton and Scott Anselmo. Their remix for Starkillers's "Pressure" hit the top 10 in Beatport in its first day and made it to #3, where it enjoyed the top charts for 3 straight weeks. Not afraid of cranking it up a notch, Thomas delivers an energetic and hi-octane peak-time remix that will tear the roof off of any deserving club!

RELEASE DATE : 2011.06.27(beatport) , 2011.07.25(other)