19BOXLTD005
DJ 19 VS THOMAS PENTON / 3 A.M. DELIGHTFUL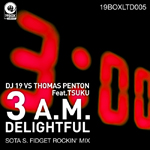 1. SOTA S. FIDGET ROCKIN' MIX
DJ 19 VS THOMAS PENTON SOTA S.


This remix was born into the world after holding DJ 19's "Phututefunk" remix contest at several well-known Japanese electronic music download websites. There was no definitive winner, so 19BOX RECORDINGS has decided to release a commissioned remix.
SOTA S., who has previously released the "Kinky Japanese EP" on 19BOX RECORDINGS, is a multi-talented jack-of-all-trades. DJing, production, and designing all fall into his lap with ease. He is most well-known as the organizer of TORTURE GARDEN JAPAN - which is one of the world's most famous international fetish parties. SOTA has brought rock-based remix that will remind you of the original motif of "3 A.M. Delightful".
Lastly "3 A.M. Delightful" was originally released in 2008 done by DJ 19 & THOMAS PENTON.