19BOXAL003 / 19BOXCD002
DJ 19 / PHUTUREFUNK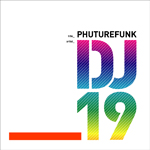 1.INTRO
2.BLAZE OF GLORY feat. SAJU (PRODUCED WITH H.GARDEN)
3.NETHER CUTTER (ALBUM EDIT) feat. MICHELLE CHIVERS (PRODUCED WITH C-JAY)
4.MASH UP (ALBUM EDIT) *THEME OF TV PROGRAM "mashup! Musio"
5.RAINFOREST *PAUL HARDCASTLE COVER (PRODUCED WITH SOTA S.)
6.I WOULD DIE
7.TOKYO NIGHT (PRODUCED WITH H.GARDEN)
8.YOZAKURA (PRODUCED WITH BJORN FOGELBERG)
9.LET THE MUSIC
10.SILENT MORNING (PRODUCED WITH BLUE SATELLITE)
11.MY BRAIN (ALBUM EDIT)
12.3 A.M. DELIGHTFUL (ALBUM EDIT) feat. TSUKU (PRODUCED WITH THOMAS PENTON)
13.DIAMOND DUST (ALBUM EDIT) feat. HARRY MOON (PRODUCED WITH AUSTIN LEEDS)
14.IMA (ALBUM EDIT) feat. TA (PRODUCED WITH THOMAS PENTON)
15.ACID PIANO (PRODUCED WITH MOUSSA CLARKE)
BONUS TRACKS FOR JAPANESE EDITION
16.PHUTUREFUNK (ROSS COUCH REMIX)
17.BREAKIN' OF THE DAWN 2009 (4MAL REMIX)

PRESS
DJ 19 is one of the most well known and respected DJs and producers in Asia. He is the force behind Japanese electronic music labels 19box Recordings, 19box Limited and Park Limited Muzik. The labels have been in operation since 1999 and seen a slew of licenses to DJ mix CDs, DVDs, TV and more.
DJ 19 has been hard at work in the studio since he made his debut track in 1998. Since that time, he has delivered over 20 official mix CD compilations in the territories of Japan, Russia, Taiwan and Indonesia. While his name has remained prevalent and well-known on the DJ mix compilation market, he has yet to release an album using his DJ 19 moniker.
The reason for this decision on not releasing an album using his most prominent alias is simple. Up until this point he has been working under projects using the aliases of TRANCENTRAL STATION (whose biggest hit was "Mothership" – which in turn appeared on JIMMY VAN M's "Bedrock" CD), AMBROZIA (downtempo/chillout moniker that produced "It's U" as licensed to the "Real Ibiza" compilation ), VALID EVIDENCE (more piano-based electronic music featuring heavy Balearic grooves) have all kept him busy. In fact, these have kept him so busy that DJ 19 has already released 5 full-length albums using a combination in-thereof those monikers.
That all said and done, DJ 19 is finally ready to unleash his debut artist album unto the world! The album is aptly-named "Phuturefunk" – a style that 19 has been using to describe in the way he DJs, produces and lives life. As a result of this, "Phuturefunk" has appeared in many aspects of his music. For example, he has released a track on Panther (a sister label of Hook/Bellboy Recordings) and a mix CD in Taiwan that both used the title of "Phuturefunk".
"Phuturefunk" includes 15 brilliant tunes. The tracks "Nether Cutter", "3 A.M. Delightful", "Diamond Dust" and "Ima" have all been released on his own label 19box Recordings as single releases. His tunes "Mash Up" and "My Brain" have both been released as singles on 19box Limited and Reticent Recordings respectively. The true heart of the album is the cool, funky and groovy co-productions with some of the world's best underground electronic musicians. Collaborations in between DJ 19 with the UK's MOUSSA CLARKE(PF PROJECT/MUSIQUE/PHILTER), Sweden's BJORN FOGELBERG and a new USA-based act BLUE SATELLITE have truly made this a forward-thinking and global collection of music.
It doesn't stop there though. US's THOMAS PENTON, AUSTIN LEEDS, MARKUS SHULTZ all worked hard trading tracks back and forth with DJ 19 over the Pacific Ocean through the Internet until they were complete. Further collaborations come from Holland's C-JAY and UK-based singer and songstress, MICHELL CHIVERS. "Phuturefunk" also has cover version. That is 19's take on PAUL HARDCASTLE's "Rainforest" – which is the artist from whom DJ 19 draws his name (after HARDCASTLE's Vietnam-broadcast sampling hit "19").
The future is coming. The funk is already here. Now it's time to combine the two and release "Phuturefunk" to the world.
'98年にPARATONE LIMITEDから「Body Free(C'mon)」でデビューし、'99年には自身の19BOX RECORDINGSを立ち上げ、日本人としてはいち早く海外流通に着手。世界のマーケットを視野に、定期的に作品を発表し続けているクラブ・シーンのパイオニアであるDJ 19が、満を持してデビュー・アルバム『Phuturefunk』をドロップ。
これまでにTRANCENTRAL STATION名義で1枚、AMBROZIA名義で3枚、VALID EVIDENCE名義で1枚オリジナル・アルバムを発表し、フロア向けに特化したDJ 19名義では、国内だけでも19枚のMIX CD、海外向けには4枚、つまり計23枚をリリース。その他、コンパイルしたチルアウトCDや監修を手掛けた作品を加えると、もはやカウント仕切れないが、逆に何故に今までDJ 19名義でオリジナル・アルバムが出ていなかったのか不思議なくらいである。
それは、この名義では、フロアに特化=DJユースであるということを前提に作品を作り続けてきたからに尽きる。DJとしては、クラブの臨場感を再現したMIX CDというフォーマットに則れば、オリジナル・アルバムを制作することと同等の意味合いを持つために、ハイペースでMIX CDをリリース出来る環境にあるDJ 19にとって、敢えてオリジナル・アルバムをパッケージする必然性がなかったのである。
しかも、課外活動であるAMBROZIAやVALID EVIDENCEで、遠回しにDJ 19のアナザー・サイドを覘かせながら、単にハウス・ミュージックに特化した人間ではないことを証明してきた。では、DJ 19の本質はどこにあるのか? その答えは、今、手元にある。遂に、その本丸が正体をあらわしたことで露になったのだ。
DJ 19がデビュー時からジャンルを設定せず、自身のサウンドを"PHUTUREFUNK"と呼び続けているのは、そうした意味も込められている。時代により、それがトランスやプログレッシヴ・ハウスにカテゴライズされることはあっても、一貫して"PHUTUREFUNK"="未来のファンク"を創造し続けているのである。ちなみに「Phuturefunk」というタイトルのトラックは、クリス・カウイー率いるイギリスの名門HOOK/BELLBOY傘下のPANTHERからリリースされた。今回、アルバムが発売されるにあたり、ロス・コーチのリミックスをCD初収録している。
古いところでは、元MAJI NA DAMU(DJ 19がプロデュースを手掛けた女性デュオで、ポール・ヴァン・ダイクのMIX CDにもピックアップされた)のTAによる「Ima」や、アメリカのクラブ系ライヴ・アクトとしては絶大な人気を誇るラビット・イン・ザ・ムーンが自身のライヴ・パフォーマンスの際には必ず使用し、彼らの『Decade』にも収録された「Diamond Dust」も収録している。ゲストとして参加しているのは、アメリカからはポール・ヴァン・ダイクのアルバムでコラボしたオースティン・リーズ、19BOXのメイン・アーティストでもあるトーマス・ペントン、トランス系で人気のマーカス・シュルツ、オランダからはC-JAY、イギリスからはカバラにダミアン・ヘックにシャイロー(SHILOH)などへの参加で知られるヴォーカリスト=ミシェル・シヴァーズ、そしてクラブ映画の金字塔『トレインスポッティング』のテーマを手掛けたPFプロジェクトの片割れであるムーサ・クラーク、スウェーデンからはSYSTEMなどからリリースがあるビョーン・フォーゲルバーグ、中国出身で日本では'97年にデビューしたアンビエント系のシンガー=サージュ、DJ 19とのコラボレーションも多数あるNHKの『陰陽師』などでお馴染みのH.GARDENなどなど、顔ぶれも多彩である。
他にも、「Ima」と同系等の日本語トラック「3 A.M. Delightful」や、仙台放送を中心に10局ネットで放送されていた音楽番組『mashup! MUSIO』のテーマ曲である「Mash Up」など、80'sファンクな作品から、ディープ・ハウス、トランシーなものまで、またDJ 19の名前の由来となったポール・ハードキャッスルの「19」と並ぶヒット曲「Rainforest」のカヴァーなどなど、幅広い作品を収録している。