October 2005ARCHIVE
DJ 19 VS AUSTIN LEEDS /
DIAMOND DUST(UNRELEASED MIXES)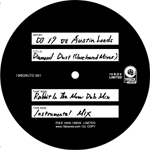 A : RABBIT IN THE MOON DUB MIX
B : INSTRUMENTAL MIX






PRESS
LIMITED set the campaign up with unreleased mixes from DJ 19 VS AUSTIN LEEDS - with a massive mix from RABBIT IN THE MOON. After the success of licensing to "DAVE SEAMAN & LUKE CHABLE'S THE THERAPY SESSIONS Volume 2", we grant a request of releasing Dub Mix of RABBIT IN THE MOON.
RABBIT IN THE MOON needs no introduction. They are responsible for remixing an array of artists, including GARBAGE, ORBITAL, THE SMASHING PUMPKINS, SARAH McLACHLAN, GOLDIE, BT and PLANET PERFECTO just to name a few. Their tracks always supported by big DJs such as PAUL OAKENFOLD, SASHA, JOHN DIGWEED, ANTHONY PAPPA, ADAM FREELAND and LEE BURRIDGE.
AUSTIN LEEDS is without a doubt one of the hottest new producers in the house music world. Based at his home in Miami, Florida. Austin devotes countless hours to his many and varied Dj/Production projects. His impressive track record has already attracted the attention of many major DJs and producers like SASHA , DIGWEED and DEEP DISH. Austin has had studio collaborations with well known artists and DJ's including JIMMY VAN M, CASS & SLIDE, KOBBE, MARA, LUKE CHABLE, INNATE, NU-BREED and ORIGIN. And This time, AUSTIN LEEDS teams up with Japan's priority, DJ 19. Needless to say, DJ 19 is a top Japanese DJ who owns three records labels, 19BOX,PARK LIMITED MUZIK and 19BOX LIMITED.