December 2003ARCHIVE
AMBROZIA / COX EP VOL.2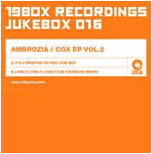 A : IT'S U(SPARTAK VS PERC DUB MIX)
B : LOVELY LOVELY LOVELY(LEE KAVANAGH REMIX)



PRESS
The second release of the Cox EP features remixes from SPARTAK VS PERC and LEE KAVANAGH.
The first Cox EP, with featuring both vocal tracks, received strong support from artists such as SATOSHI TOMIIE, JAMES HOLDEN and MOSHIC. For the new Cox EP II, the percussive and tribal sounding SPARKTAK VS PERC Dub version has been included, which is perfect for the dancefloor.
ALI WELLS is the man behind PERC (and also writes under the name VOTION). He remixed many tracks under different names, released through labels such as EASY ACCESS, SILVER PLANET, LIMBO and MINDSET. He also found success through CHOO CHOO RECORDS/LIMITD(UK) under the name SPARTAK. SPARTAK received high acclaim for the track "Life", which established his tribal sound, which continued on with the remix of MARA's "SATISFY ME", which has just started to become a hot track. In this remix ALI performs as both PERC and SPARTAK....it just gets cooler and cooler. The track has one fat bassline that is guaranteed to rock the dancefloor.
On the flipside of the EP is LEE KAVANAGH's remix. LEE produces under the names FUTURECAST and REPLICANT, and is released from the UK label POD RECORDINGS. First coming to prominence after collaborating with LOUIS GASTON(ex-POD) on the track "LIFE ON THE EDGE", the track was picked up for media attention and was included on a number of compilations. PAUL OAKENFOLD was of the first of a number of big DJ's who supported him.LEE is currently working on a new project with LOUIS GASTON called ANTILYA.He has previously remixed a side project from PIECE PROCESS, and PARANOID ASSASSIN among others. This remix of LEE's is a really cool trancey record.
AMBROZIA, who supplied the original track, is a project of the top Japanese DJ, DJ 19. AMBROZIA's tracks have been licensed for compilations such as REAL IBIZA VI (REACT UK) and Japan's aosis RECORDS, and the previous Cox EP was also ranked in the COOL CUT CHARTS. DJ 19 has been going from strength to strength recently, with his new party"Park" being held at the premier Japanese venue "ageHa".

REACTION
DJ SUPPORT:
JAMES HOLDEN, TIMO MAAS, ANDY MORRIS, FRED NUMF, JERRY BONHAM, PETE GAWTRY, CHRIS CARGO, BRIAN CODY, DEREK TAYLOR, OWEN, JONATHAN OJEDA, JOANNA MASSIVE, CHRIS GAINER, NICO DE CEGLIA and more
PRESS:
DJ MAG by NICK BATES
DISCOID by NICO DE CEGILA
HOLLAND'S XPANDER WEBSITE by JOOST
PROGRESSIVE SOUNDS WEBSITE by CHLOE HARRIS
RADIO:
ENERGY FM by PAUL HUGHES
PROTON by VILLO
NOVA FM by BRIAN CODY
TOPRADIO by TIM DAVIS
KROQ by TROY ROBERTS

MEDIA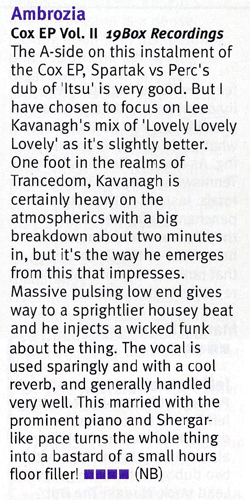 APPEARS ON
ageHa Vol.02