December 2002ARCHIVE
ROMAN S. / PLEASURE ME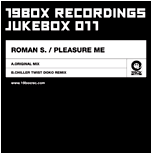 A : PIECE PROCESS REMIX
B : ORIGINAL MIX




PRESS
This is the eleventh release of renowned Japanese DJ, DJ 19's label, 19Box(Jukebox). DJ 19 has played at parties such as John Digweed's Bedrock Night and is a major force in Japan's dance music scene. The track has already been featured on DJ 19's new mix CD "Essence Phase Three". The A side is a delicious slice of minimal progressive house music, and the B sideis a track which appeals to both trance and progressive fans.
Roman S. is a Russian residing in New York and is one of the hottest house creators of the moment. Contracted with OMID's (16B) label SEX ON WAX Recordings, he also produces music under the name DTRS with DANNY TENAGLIA(they have remixed one of YOKO ONO's songs), and has been widelypraised for his music. He has remixed a number of tracks for STAR 69, (PETERRAUHOFER/CLUB69), and he releases music under the name RUPT from Portugese DJ VIBE's label KAOS. He has released music under a number of names such as RED SQUARE, NEXT GENERATION, CODE 7812, GHOSTS IN FLAVOURS, ROMAN ROMA and RUPT. He is also the Head A&R for progressive music at King Streets Records.He has set up his own label, Red Square Recordings, and is popular for his Dark and Long-style, Danny Tenaglia influenced tracks.
Chiller Twist is a London artist who has been praised and supported by PAUL OAKENFOLD, PETE TONG, TIESTO, SISTER BLISS and BOY GEORGE, and has a sound which appeals to both trance and progressive fans. OAKEY in particular has taken a shine to Chiller Twist, requesting remixes for his PERFECTO label. He has remixed artists such as Velvet, Solid Sessions, Jan Johnston and Insigma. His original tracks have been supported by Pete Tong on BBC Radio 1's Essential Selection Show, often being featured on the show. His tracks have been licensed for use on mix CDs by Jerry Bonham, John 00 Fleming and Jody Wisternoff. Recently an original track of his has been included on DJ Tiesto's "In Search of Sunrise 3" CD. He will release his original album soon and has his own label, Plum Projects.
REACTION
DJ SUPPORT:
SASHA, CHRIS FORTIER, DANNY TENAGLIA, PAUL VAN DYK, JUSTIN DRAKE(PEACE DIVISION), LUCIEN FOORT, DAN MORRIS, DEEP C, STEVE GERRARD, JAMIE WILBUR, D. RAMIREZ, JERRY BONHAM, FREDERIK and more
PRESS:
DJ MAG by NICK BATES
M8 by DAVE BEGG
THE PROGRESSIVE SOUNDS WEBSITE by CHAD HARNISH
HOLLAND'S XPANDER WEBSITE by JOOST etc.
RADIO:
ESTONIA'S VIBE FM by THE RULERS OF THE DEEP
FIRE 107.6 FM by STUART PARNELL
EAST ANGLIA1S VIBE FM by RIC GROVES
KISS FM by MOONFACE(PHIL THOMPSON)
MEDIA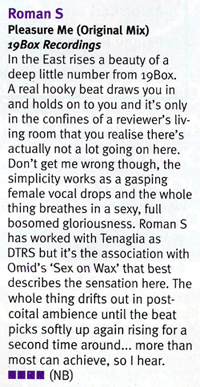 APPEARS ON
19BOX INTO THE BATTLE ROUND 1
DJ 19 presents ADDICTIVE ASIA GATE 3
DJ 19 presents ESSENCE PHASE THREE
STADIUM JAKARTA ESSENTIAL